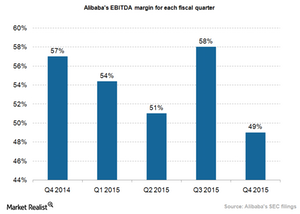 Why Did Alibaba's Operating Margins Steeply Decline in 4Q15?
Several reasons why Alibaba's EBITDA margins declined fast
In the previous part of this series, we discussed Alibaba's (BABA) gross merchandise volume (GMV) growth for its operating segments. Alibaba's non-GAAP[1. generally accepted accounting principles] EBITDA[2. earnings before interest, taxes, depreciation, and amortization] margin declined rapidly. As the chart below shows, Alibaba's EBITDA margins declined from 57% in fiscal 4Q14 to 49% in fiscal 4Q15.
Article continues below advertisement
There are a number of reasons why Alibaba's margins have been declining. Firstly, Alibaba mentioned that its fixed costs have increased. This increase helps the company in a seasonally strong quarter such as the December-ending quarter but it pressures margins in seasonally weaker quarters such as the March-ending quarter.
The second and more important reason is that Alibaba has stepped up its investments in new business initiatives such as cloud computing, mobile operating systems, digital entertainment, and local services. Alibaba's margins were also affected by the consolidation of newly acquired businesses such as UCWeb and AutoNavi.
The AutoNavi map app is the number-two mobile app and map app in China. After the acquisition, AutoNavi has become the sole supplier of mapping services for Alibaba's marketplace. Incidentally, Baidu (BIDU), which is in a consortium of companies that also includes Germany's top three auto makers—BMW, Audi, and Daimler—could buy a majority stake in Nokia's (NOK) HERE mapping unit. We covered this outlook in Nokia Looks to Divest Mapping Unit Valued at $2.2 Billion.
You shouldn't be overly concerned about Alibaba's margins decline
Although Alibaba's margins have declined fast, you shouldn't worry. The company is investing in the future growth areas, which is a positive sign. Even Facebook's (FB) total non-GAAP operating expenses grew by 83% year-over-year compared to its year-over-year revenue growth of 42%. In Facebook Expects Currency Issues to Have a Larger Impact in 2Q15, we discussed how the US dollar (UUP) largely affected Facebook's revenue growth.