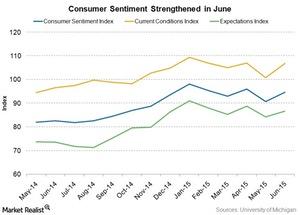 Consumer Sentiment Shines on Wall Street: Upbeat in June
Consumer stocks shine on Wall Street
So far, consumer sentiment has been rising in June in the US. The Consumer Discretionary Select Sector SPDR ETF (XLY) has gained about 1.26% over the past month. It has gained a good 6.5% on YTD (year-to-date) basis. In contrast, the broad market tracking SPDR S&P 500 ETF (SPY) is down 0.04% in the past month. So far, it returned 2.14% this year.
Consumer sector companies like Gap (GPS), Darden Restaurants (DRI), and Coca-Cola (KO) were among the top gainers at the close of trade on Friday. Gap was up 1.94% and Darden Restaurants gained 1.58%. Coca-Cola stock rose by 0.99% on June 12.
Article continues below advertisement
Consumer sentiment gained 3.9 points in June
The Consumer Sentiment Index is a monthly index that's jointly released by the ISR (Institute for Social Research) of the University of Michigan and Thomson Reuters. It came out on Friday, June 12. The composite index stood at 94.6 index points in June—a 3.9 point rise from May's 90.7 points. The reading came in well above median expectations of 91.2 points. US consumers saw their personal financial projections in a positive light. Also, US households are expecting the largest wage growth since the subprime crisis.
The current conditions component climbed to 106.8 points—a six point gain over May. The index's expectations component also advanced by 2.4 points to 86.6. The overall report revealed positive consumer sentiment in June 2015.
Now, we'll take a look at the Eurozone. The ECB's (European Central Bank) monetary stimulus is playing its part well in reviving the economy out of deflation. It's spurring growth. Spain is a classic example. We'll discuss this in the next part of this series.