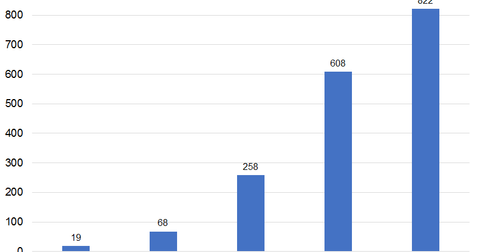 Canadian Solar's Downstream Business and Expansion
By Saania Malik

Updated
Downstream expansion
Historically a solar power equipment manufacturer, Canadian Solar (CSIQ) has since expanded into the downstream market with its total solutions business. With the solar panel manufacturing industry facing headwinds from an oversupply of panels and a decrease in panels' selling price, many industry operators have diversified across the solar value chain. Beginning in 2011, Canadian Solar has seen steady integration of its total solutions business.
Article continues below advertisement
The Total Solutions business
In 2010, Canadian Solar started providing EPC services primarily in Canada and China. These services consist of contracted engineering, procurement, and construction work performed on projects owned by other developers. Also in 2010, the company started selling solar system kits primarily in Canada and Japan. These kits consist of internally produced solar modules and other components, such as inverters, supplied by third parties.
In 2012, Canadian Solar started providing O&M services—miscellaneous operations and maintenance services. In 2014, Canadian Solar expanded its total solutions business to electricity revenue generation and added build-to-own projects to its pipeline.
As of May 2015, Canadian Solar has installed 822 MW of power, a number that's grown at a compound annual growth rate of 112% since 2011.
Pipeline of assets
Canadian Solar has various projects in operation across its geographic segments: 6.6 GW worth of early-mid stage and 2.4 GW of late-stage projects, which are either in development or EPC[1. Engineering, production, and construction]. The graph above shows a breakdown by geography for these late-stage projects.
Going forward, much of the company's pipeline will comprise projects from the acquisition of Recurrent Energy. For more information regarding the acquisition, read on to the next part of this series.
Contribution to top line and bottom line
Management has indicated its intentions to increase its attention to and investment in downstream expansion. The proportion of revenues from the company's total solutions business has increased rapidly. In 2014, the total solutions business accounted for 44.5% of Canadian Solar's revenues, whereas it accounted for 28.6% of revenues in 2013 and only 11.5% in 2012.
The total solutions business allows higher margins. The company's overall gross margin increased from 16.7% in 2013 to 19.6% from 2014, whereas its operating margin increased from 7.9% to 12.4% over the same period.