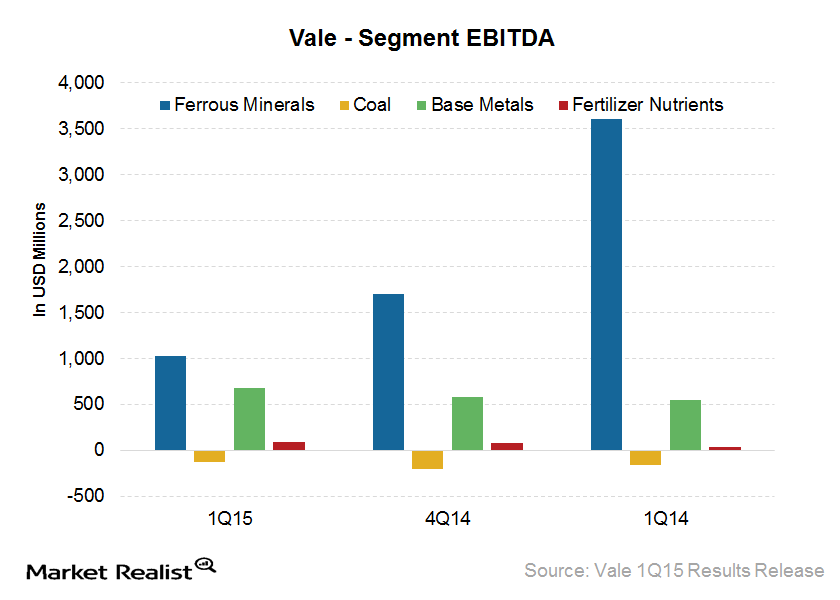 Vale's 1Q15 Earnings Take a Hit
Weaker financials
Vale S.A. (VALE) reported revenues of $6.4 billion in 1Q15, which is a decline of $2.9 billion compared to 4Q14. Most of the decline is attributable to seasonally lower sales volumes and lower commodity prices. We'll look at realized commodity prices in detail in a later part of this series.
Vale's reported adjusted EBITDA (earnings before interest, taxes, depreciation, and amortization) is $1.6 billion. However, it includes a one-off of $230 million related to the gold stream transaction.
Article continues below advertisement
Article continues below advertisement
Vale's net loss for 1Q15 was $3.12 billion compared to a loss of $1.85 billion in 4Q14. A major part of the loss was due to the non-cash impact of the depreciation of the Brazilian real (or BRL). The majority of Vale's debt is denominated in US dollars and BRL depreciation, to the tune of 20.8% quarter-over-quarter. This led to more losses than gains on costs.
Copper and coal performance
The realized prices of copper were significantly lower for Vale when compared to the LME's (London Metal Exchange) average copper prices. While average LME copper prices were $5,827 per ton in 1Q15, Vale's realized prices were $1,069 per ton lower than this. Vale's discount compared to LME mainly stems from the provisional pricing system and the treatment and refining charges.
Copper giant Freeport-McMoRan (FCX) released its 1Q15 financial results on April 23. The results came in largely according to market expectations.
Article continues below advertisement
Adjusted EBITDA for coal for 1Q15 was negative $128 million compared to negative $204 million in 4Q14. This improvement, despite a slight weakness in coal prices and lower volumes, is due to a reduction in costs. Other coal producers have also managed to reduce costs. Cloud Peak Energy's (CLD) cost per ton dropped significantly to $10.02 in 1Q15 compared to $10.63 in 1Q14. This was due primarily to a drop of more than 40% in the company's diesel costs.
Comparable earnings
Other companies in the iron ore business include BHP Billiton (BHP) and Rio Tinto (RIO), which announced their 1Q15 production results on April 22 and April 21, respectively. Cliffs Natural Resources (CLF) announced its 1Q15 earnings on April 28. BHP slowed down its expansion to 290 million tons per annum. Rio's production results were mixed with weaker-than-expected iron ore production.
The SPDR S&P Metals and Mining ETF (XME) is another way for investors to get exposure to the metals and mining space without picking individual companies. Cliffs Natural Resources forms 4.0% of XME's holdings.