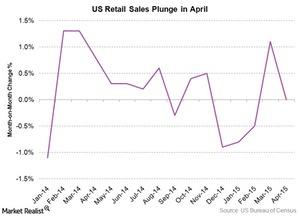 US Retail Sales Flat in April on Rising Oil Prices, Yet XRT Up 1%
Consumer sector gains have outperformed the broad market
Consumer sentiment may be subdued in the United States. However, the retail sector–tracking SPDR S&P Retail ETF (XRT) and the Consumer Discretionary Select Sector SPDR ETF (XLY) have gained 2.74% and 6.15%, respectively, year-to-date against the broad market's (SPY) 3.36% return. Consumer stocks such as Yum! Brands (YUM), Amazon (AMZN), and Netflix (NFLX) have also made goods gains over the past month. YUM has returned 17.82% on a positive earnings report, while AMZN stock has surged 13.43% on an upbeat earnings report. Read, Amazon 1Q15 Earnings Surprise the Company as Much as Investors. NFLX also beat estimates. The stock returned 7.30% over the past month.
Article continues below advertisement
Retail sales record no growth in April
Retail sales in the United States in April didn't see any growth over March's sales figures. According to the May 1 advance estimate report issued by the US Census Bureau, retail sales in the United States recorded 0% growth in April month-over-month. Excluding the auto component, retail sales recorded a 0.1% rise, and excluding the auto and gas components, the gain stood at 0.2%, highlighting the impact of rising fuel costs on retail spending.
See The 6 Positive Things about April's Retail Sales Report for more insight into the report.
But the jobless claims reading brought some positive news for the consumer sector.
Initial jobless claims have been low so far in May
According to the US Department of Labor's Employment and Training Administration report dated May 14, jobless claims declined slightly in the United States. For the week ended May 9, there were about 264,000 new claims for unemployment insurance. The report came in below the median estimate of about 270,000 claims and was also down from the previous week's 265,000 claims. A declining trend in jobless claims indicates improvement in labor market conditions, which also boosts the consumer sector since consumer spending increases, as the chart above shows.
While economic indicators in the United States caused consumer-sector investors to become wary of their holdings, investors in the euro area had good reason to get bullish on European equity. Let's move on to assess how the Eurozone performed on its economic scorecard in the past week.