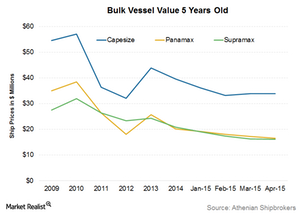 Secondhand Vessel Prices Continue to Fall
Newbuilds versus secondhand vessels
Secondhand vessels are delivered faster than newbuilds. It's important to note that newbuilds take at least two to three years to build. As a result, secondhand vessels represent more of the short to medium-term outlook. Secondhand prices tend to be more responsive to changes in the current rates because they're more responsive to industry turnarounds than newbuilds.
Article continues below advertisement
Article continues below advertisement
Secondhand vessel values decline
In keeping with newbuilds' decline, as we already discussed in the previous part of this series, secondhand vessel prices are also declining. According to the latest monthly report released by Athenian Shipbrokers, the vessel prices for five-year old Capesize vessels were the same in March and April at $33.8 million. The prices for five-year old Panamax vessels declined from $17.2 million to $16.5 million, while the prices of the Supramax vessels declined from $16.2 million to $16.1 million.
Panamax and Supramax ships are mid-sized and smaller vessels. They're used to transport dry raw materials like iron ore, coal, and grains over the ocean.
The continued decline in the Panamax and Supramax purchase prices since 2010 reflects the ongoing excess capacity in the dry bulk shipping industry. This happened due to the record number of ships that were ordered before the financial crisis. Shipping companies became too optimistic with China's trade growth.
Investors can use ship orders and utilization to project the future outlook of the dry bulk shipping industry. As long as ship rental rates continue to fall, the outlook appears negative for dry bulk shipping companies like DryShips (DRYS), Diana Shipping (DSX), Navios Maritime Partners (NMM), and Eagle Bulk Shipping (EGLE). It's also negative for the Guggenheim Shipping ETF (SEA). SEA invests in leading shipping companies around the world. Navios Maritime Partners forms 2.6% of SEA's holdings.
The SPDR S&P Metals and Mining ETF (XME) also provides investors with exposure to iron ore, coal, and other commodities.
In the next part of this series, we'll discuss the dry bulk orderbook to gauge the supply and demand in the industry.