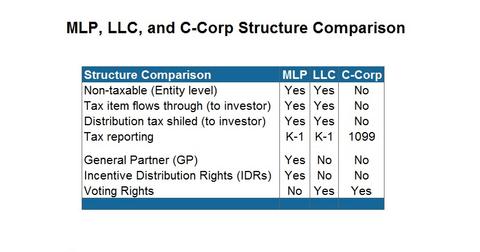 How Master Limited Partnerships Are Structured
By Victor Cheng

Updated
Overview of the structure
A MLP's ownership structure consists of a decision-making general partner (or GP) and a limited partner (or LP). A GP holds a minor stake of ~2%, while the LP holds a ~98% stake. A GP can hold LP units also. A GP and LP can both trade on the stock exchanges as separate entities.
Article continues below advertisement
Limited partner versus general partners
A GP is responsible for the management and operations of the partnership while a LP provides most of the equity capital and has no say in the operational part. A GP is entitled to incentive distribution rights (or IDRs), which we'll explain later in the series, as well as cash distribution if it also holds LP units. On the other hand, a LP is only entitled to cash distribution. A GP has full voting rights while a LP has limited or no voting rights.
How an MLP is different from LLC and C-Corp
A MLP differs from a C-Corp and a LLC on various levels. A MLP's main advantage is that it is non-taxable at the entity level. The disadvantage comes from complex tax reporting and non-voting rights for unit holders.
From the above chart, we can see that a MLP is somewhat similar to an LLC except the former has a GP and IDRs, but no voting rights. A C-Corp structure is very different from the MLP in each of these aspects.
Some of the MLPs whose GP has a high stake in LP units include Western Gas Partners (WES), Enable Midstream Partners (ENBL), EnLink Midstream Partners (ENLK), and Targa Resources Partners (NGLS). These MLPs have a combined weight of 6.69% in the Alerian MLP ETF (AMLP).
In the next article, we'll discuss the importance of C-corp as a parent company of an MLP.