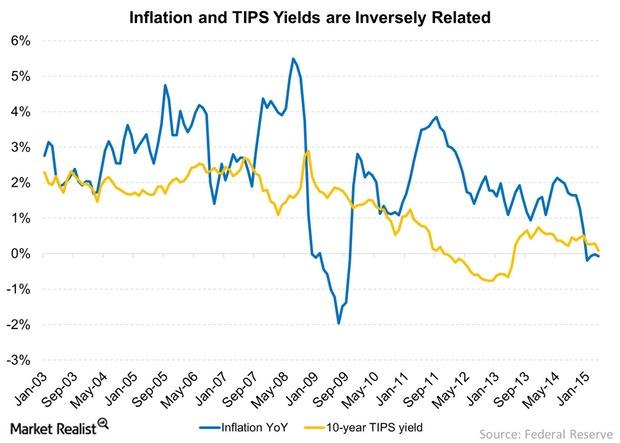 The Impact of Rising Interest Rates on TIPS
If inflation falls, income will likely decline, as would the principal payment at maturity (though you can never get back less than the original par value at which the bond was issued). TIPS are one of the few asset classes that directly pays an investor for realized inflation, making them attractive during periods of rising inflation. This compensation is the same for all TIPS securities. For this reason, investors who believe interest rates might fall often prefer longer maturity TIPS, while those who believe that rates will rise may want shorter maturity TIPS.
Article continues below advertisement
Article continues below advertisement
Market Realist – The impact of rising interest rates on TIPS.
The above graph pits the year-over-year (or YoY) inflation rate based on the CPI (consumer price index) against the yield on the ten-year TIPS (TIP). As you can see, the two are inversely correlated. In fact, yields go down or up—even before inflation rises or falls—as yields react to inflation expectations.
Investing in bonds (AGG) usually entails two main risks: interest rate risk and credit risk. The latter is the risk of the issuer defaulting on either the coupon or the principal payment. This type of risk is mainly seen in high-yield bonds (HYG). However, Treasury bonds (TLT) (SHY) do not have such risks, as they are backed by the full faith of the US government.
Interest rate risk is the risk of a bond becoming less attractive due to a hike in interest rates. Investing in long-dated bonds, including Treasuries, entail this kind of risk. With interest rates likely to go up by the end of the year, TIPS with shorter maturities look more attractive.
Once interest rates begin to rise, the yields on TIPS rise too. This is because rising interest rates bring down inflation. However, the hike is expected to be gradual.
Read on to find out where inflation is headed and what it means for inflation-protected bonds.