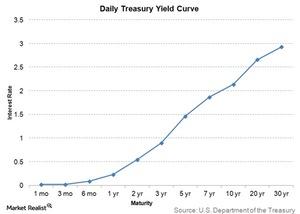 Why Does a Flattened Yield Curve Hurt Banks?
10-year yields drop after spike
Yields on 10-year U.S. Treasury notes fell to 2.14% on May 15, 2015, after closing at 2.23% on May 14. The dip followed weak retail sales, industrial production, and consumer confidence data as well as stabilization in European bonds.
Earlier, on May 12, yields on 10-year notes spiked to 2.35%. The spike in US yields followed European yields. It was an unexpected movement, said to be driven by various factors including lack of liquidity, European quantitative easing, and increased inflation expectations.
Article continues below advertisement
Article continues below advertisement
While short-term interest rates are set by the Federal Reserve, longer-term rates are determined by the market. A rise in longer-term yields is generally an indication of an improving economy. However, with no specific indicator suggesting a sudden dramatic improvement in the economy, the spike in yield can likely be attributed to other factors.
Lower economic growth expectations generally result in a flattened yield curve structure. Longer-term yields are also affected by long-term inflation expectations and central bank activities.
Banks benefit from a steeper yield curve
Banks typically borrow short-term and lend longer-term, which results in maturity transformation. Loans that banks give are generally longer-term. These loans are funded in large part by shorter-term deposits.
So banks benefit from a steeper yield curve. A steep curve allows banks to lend on higher long-term rates and borrow on lower short-term rates. This boosts margins for banks.
Concerns about global economic growth contribute to flattening of the yield curve. An expected short-term interest rate hike by the Fed is causing yields on shorter-term securities to rise. This flattens the yield curve.
This might negatively impact the performance of large as well as smaller banks such as KeyCorp (KEY), SunTrust Banks (STI), BB&T (BBT), and Regions Financial (RF). Together, the four banks form ~5.5% of the SPDR S&P Regional Banking ETF (KRE). Investors should monitor the yield curve slope as an indicator of bank performance.