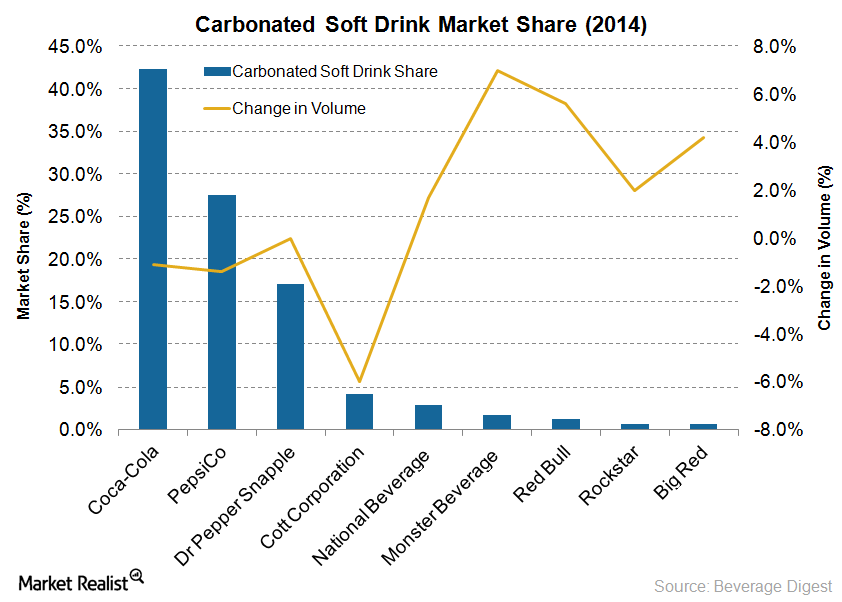 Energy Drinks Outperform Soda Drinks in Case-Volume Growth
Unfazed despite health concerns
Both CSD (carbonated soft drinks) and energy drink companies have faced severe backlashes because of the adverse impacts certain ingredients in these drinks can have. Unlike soda drinks, however, energy drinks continue to register strong growth.
Article continues below advertisement
Energy drink companies outperform
Combined, beverage giants Coca-Cola (KO) and PepsiCo (PEP) have a 69.8% share of the US CSD market based on case volumes. Energy drink companies Monster Beverage (MNST) and Red Bull respectively had a 1.7% and 1.3% market share in 2014.
Though energy drink companies are quite small compared to the cola giants, they have outperformed them in terms of volume growth. In 2014, the CSD case volumes of Coca-Cola and PepsiCo declined by 1.1% and 1.4%, respectively. And, Dr Pepper Snapple's (DPS) case volumes remained flat. In contrast, according to Beverage Digest, Monster Beverage, Red Bull, and Rockstar respectively registered 7%, 5.6%, and 2% year-over-year case-volume growth in 2014.
Energy drinks growth
According to data provided by Beverage Marketing Corporation, energy drink case volumes rose by 6.4% in 2014, up from 5.5% in 2013 but down from 14.3% in 2012 and 14.4% in 2011. Nevertheless, the category still outperformed ready-to-drink tea volumes, which grew by 3.7%, sports drinks, which were up 3%, and CSDs, which declined by 1%.
Energy drinks have been linked to the deaths of teenagers that consumed them. Litigation related to these cases and the ensuing negative publicity have likely impacted the growth rate in this category. Yet the marketing and associations between these drinks and popular music bands as well as adventure sports continue to attract young consumers.
Interesting times ahead
An interesting development in the energy drinks industry is Monster Beverage's strategic deal with Coca-Cola. The deal, which is expected to close in the second quarter of 2015, involves Coca-Cola purchasing a 16.7% stake in Monster Beverage and swapping its energy drinks portfolio with Monster Beverage's non-energy drink brands. The deal will expand Monster Beverage's product line-up. It will also increase the company's international reach and strengthen its position against key rival Red Bull, which is sold in over 167 countries.
Monster Beverage constitutes ~1.3% of the portfolio holdings of the Consumer Staples Select Sector SPDR Fund (XLP). It also makes up 0.1% of the iShares Core S&P 500 ETF (IVV).
For more sector updates, visit our Nonalcoholic Beverages page.