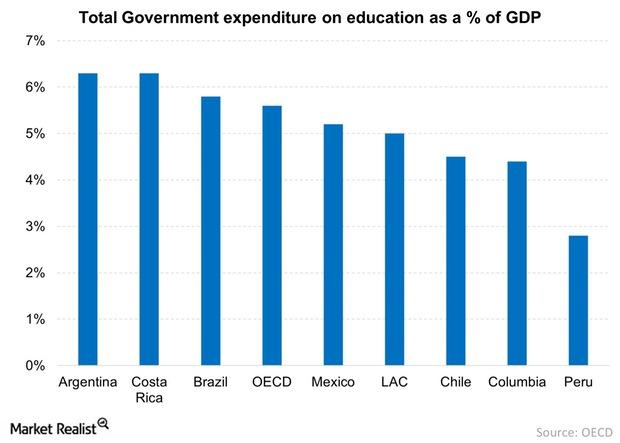 Investing in Education to Reduce Poverty in Latin America
By BlackRock

May. 13 2015, Published 11:53 a.m. ET
Mexico in the investment spotlight
Mexico, the host for this year's World Economic Forum on Latin America, has taken much of the spotlight in the past three years. Reforms that encompass everything from increasing political transparency to formalizing the workforce to improving education have been important to strengthen investor confidence in the country. A detailed National Infrastructure Plan and historic constitutional energy reform have drawn even greater interest – the National Infrastructure Plan estimates $220 billion of private investment into Mexico through 2018.
Article continues below advertisement
The reforms in Mexico are part of a broader trend in the region. We are seeing fundamental change taking hold in many markets, including Brazil, Chile, Peru and Colombia. In Colombia, the Asociacion Publica Privada (or APP) framework is proving successful in drawing investment into public infrastructure projects. Brazil has also announced a clear desire to work in closer-sync with international investors interested in supplementing infrastructure funding by the public sector.
Market Realist: Government spending on education could reduce inequality and poverty in Latin America in the long term
The graph above compares total government spending on education as a percentage of the GDPs (gross domestic products) of Latin American economies. Education spending by Latin American governments has increased many times over in the last decade or so. The idea is to increase the labor force and reduce inequality and poverty in Latin America.
Argentina and Costa Rica are the biggest investors in education in Latin America (LAQ), each dedicating 6.3% of GDP. This is higher than the OECD (Organization for Economic Co-operation and Development) average. Developed economies, including the US (SPY) and Japan (EWJ), invest less in education, spending  5.2% and 3.8% of their respective GDPs.
Brazil (EWZ) invests slightly less in education, spending 5.8% of GDP, and Mexico (EWW) spends 5.2%. Chile, Columbia, and Peru spend 4.5%, 4.4%, and 2.8% of their respective GDPs on education.
Reforms in the labor market, increasing infrastructure spending, and cutting down on red tape and corruption, among other initiatives, will go a long way to bringing around a new period of growth in the soccer-loving region.
Read on to find out how else poverty in Latin America could be reduced.