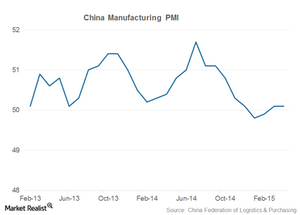 China's Official PMI Holds above 50 for 2 Consecutive Months
China official PMI
Article continues below advertisement
Official PMI above 50
The previous chart shows the trends in China's official PMI. As you can see, the PMI has been above 50 for two consecutive months. China's official PMI in April was 50.1—it held above the crucial mark of 50. Readings above 50 generally indicate economic expansion, while readings below 50 indicate a contraction.
While China's official PMI held above 50 for two consecutive months, the PMI figures released by HSBC Markit paint a grim picture of China's economy. HSBC's China PMI has been less than 50 for two months. It hit a one-year low of 48.9 in April.
Negative for the steel industry
The fall in China's manufacturing PMI is a negative sign for the global steel industry. It signals a slowdown in industrial demand. The industrial sector is a major steel consumer in China. Mechel (MTL) has operations in China. ArcelorMittal (MT) also has a joint venture in China. A slowdown in Chinese steel demand would negatively impact ArcelorMittal.
The slowdown in Chinese steel demand led to higher levels of steel exports harming companies like Ternium S.A. (TX). The steel industry in Europe is also harmed by a higher level of Chinese steel imports. In the next part of this series, we'll analyze the latest trend in the European steel industry.