American Express: Opportunities Abound in a Challenging Market
Co-branding relationships are an important part of the American Express business model. The costs of renewing and extending these relationships is increasing.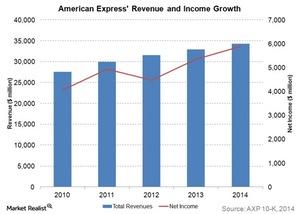 Regulatory and economic challenges
Regulation of the payments industry has increased significantly in recent years. Proposed regulatory changes in the card payment sector in the EU (European Union) are likely to negatively impact the discount revenue derived from American Express's (AXP) business in the region. It could significantly limit the company's ability to compete with other big networks.
Global economic growth continues at a modest and mixed pace. The company's results are being negatively affected by the strengthening US dollar, and American Express expects foreign exchange to have an adverse impact on its returns for the remainder of 2015.
The above graph shows the company's revenue and income growth over the last five years. AXP forms ~2.6% of the Financial Select Sector SPDR Fund (XLF).
Article continues below advertisement
Article continues below advertisement
Competition
Competition remains extremely intense across the payments industry. More intense competition has generally increased the company's cost of renewing and extending co-branding relationships, which are an important part of the American Express business model.
Visa (V) and MasterCard (MA) are known to be charging less, both to the issuing banks and the merchants. American Express anticipates a rescaling of its cost base and will implement expense control initiatives as a result of the Costco breakup.
Discover Financial (DFS), too, has faced the heat of intense competition in the payments segment.
Presence across the payments chain
American Express's horizontal scale across the payments chain gives it diverse opportunities to grow its business and drive innovation. This scale also provides the company with opportunities to offer a broader array of services to further differentiate itself from the competition.
Within the co-branding space, the company recently renewed and extended its relationships with Delta (DAL), Starwood (HOT), Cathay Pacific (CPCAY), and British Airways. Its co-branding relationship with Costco (COST) wasn't renewed in February 2015.
Cards market has numerous opportunities
The fact that globally, users are moving toward cards and away from cash and checks represents a huge untapped potential market. The convergence of online and offline commerce is opening up new opportunities to connect card members and merchants. American Express's closed-loop network and reputation for trust and security might give it an edge over others in this space.
The company's expertise with big data is expected to give it a leg up over its competitors in terms of risk management and marketing.