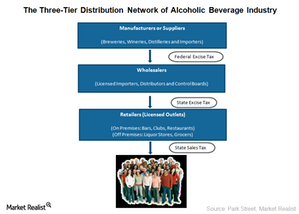 Alcoholic Beverage Industry Is Reluctant to Embrace E-Commerce
Online demand
There's a growing demand from consumers to be able to purchase alcoholic beverages online. This is reflected by the strategic alliance between an affiliate of the Wine & Spirits Wholesalers of America (or WSWA) and technology company Drizly. While growth in online sales of items like apparel, groceries, and electronics has been quite rapid, the alcoholic beverage industry doesn't have a significant presence online. Although sales have surged for websites like wine.com, there have been many impediments to the growth of online retail sales of alcoholic beverages.
Article continues below advertisement
Three-tier distribution system
The alcoholic beverage industry follows a three tier distribution system. It was implemented to ensure proper tax collection and prevent a single entity from controlling the production, distribution, and selling of alcoholic beverages.
Manufacturers and suppliers like breweries, wineries, and distilleries are part of the first tier. Manufacturers sell their beverages to wholesalers, who form the second tier of the distribution system. Wholesalers sell beverages to retailers, including on-premises entities such as bars and clubs and off-premises entities such as liquor stores and grocers. Retailers sell alcoholic beverages to consumers. In the United States, about 32 states follow this distribution system. Those states are called open states.
Unlike manufacturers in other retail categories, alcoholic beverage manufacturers can't sell directly to consumers due to the three-tier distribution system. This discourages manufacturers from having their own e-commerce channels.
Manufacturers like Constellation Brands (STZ), Brown-Forman (BF.B), and Molson Coors Brewing (TAP) together make up 3.4% and 0.2% of the Consumer Staples Select Sector SPDR Fund (XLP) and the iShares Core S&P 500 ETF (IVV), respectively.
Regulatory issues
Online retailers like Amazon (AMZN) and Instacart have faced problems selling alcohol online. The problem involves verifying the age of the buyer. The retailers must also comply with several other state laws. Regulations that govern the direct shipment of alcohol vary among states. In April 2015, AmazonFresh withdrew wine and beer from its offerings.
As we already saw in the first part of this series, Drizly provides its retail partners with its proprietary scanning app (application) that can verify consumers' IDs (identifications). Drizly's alliance with WSWA will help Drizly share its technology with more retail partners, which will benefit the industry as well as consumers.
For an overview of the US alcoholic beverage industry, you can visit our Alcoholic Beverages page.