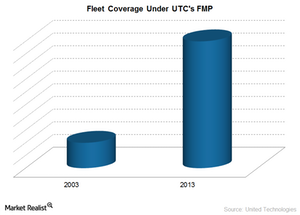 How Did UTC Improve Its Aftermarket Business?
By Ally Schmidt

Apr. 6 2015, Updated 3:07 p.m. ET
What is aftermarket?
Aftermarket generally refers to the secondary market of the aviation industry, which deals with the installation of all equipment, spare parts, accessories, and components after the sale of the aircraft by the original equipment manufacturer (or OEM). This comes under repair and maintenance of the fleet.
Generally, OEMs such as UTC's Pratt & Whitney stop supporting their customers or stop producing parts after a while. Then third-party suppliers for aircraft spare parts and subsystems take advantage by extending product availability either by stocking OEM parts or by taking over the process of manufacturing.
Article continues below advertisement
Shift in UTC's aftermarket business
Pratt & Whitney (UTX) originally focused only on selling airplane engines and spare parts. It covered only 10% of its engines under its aftermarket program. After the company saw a decline in its active engine fleet of legacy engines such as the PW2000, it decided to restructure its aftermarket business.
The company made amendments in its Fleet Management Program (or FMP) by providing engine maintenance services through signed long-term contracts with airlines. The company now covers more than 50% of its existing fleet under its FMP and will cover more than 80% of its newest engines such as the GTF engine.
With growing demand for Pratt & Whitney's engines across various airlines globally, the revenue stream from the FMP is expected to rise further in the future.
This program is a win-win situation for both UTC and its customer airlines. For UTC, this program ensures a regular flow of revenue for as long as its engines continue to fly. Additionally, customers get a better utilization rate for their airplanes since the OEM handles the maintenance.
UTC makes up 3.76% of the holdings of the iShares U.S. Industrials ETF (IYJ). Other companies included in IYJ are General Electric (GE), Union Pacific (UNP), and 3M (MMM), with 9.19%, 3.93%, and 3.90% holdings, respectively.