A SWOT Analysis of Boeing
Strengths and weakness are internal factors within a company's control. Opportunities and threats are external factors outside its control.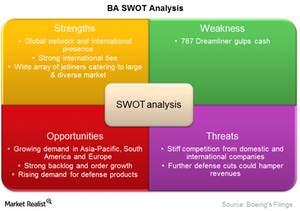 What is a SWOT Analysis?
SWOT stands for Strengths, Weaknesses, Opportunities, and Threats. Using a SWOT analysis, we are able to analyze the factors affecting a company's future. Strengths and weakness are internal factors within an organization's control, and opportunities and threats (or risks) are external factors that are outside the control of the organization.
Article continues below advertisement
Article continues below advertisement
Strengths
Strengths are usually built by a company over time, giving it an edge over other players in the industry. Boeing has several strengths:
Boeing has a strong presence in the domestic market. It is the US government's second largest defense contractor, which ensures ongoing business.
It has a wide array of commercial jetliner families, predominantly the 717, 737, 747, 757, 767, and 777 families, 787 Dreamliner, and Boeing Business Jet. These aircraft can meet a wide variety of customer needs in various markets and niche segments.
Boeing maintains strong relationships with its customers and suppliers, helping it develop and build global partnerships to develop technologies and design concepts.
The company focuses on developing technically advanced systems to gain an advantage over its competitors.
Boeing's strengths typically stem from having a first-mover advantage in the industry.
Opportunities
Opportunities present a company with the prospects of growth and the potential to increase its revenues.
Boeing's strong order growth in 2014 is expected to continue in 2015 and beyond. Boeing expects to see ongoing demand for 22,000 aircraft in the next 20 years.
Boeing has a strong backlog, which should keep it busy in the coming years. It 2014 backlog is $502 billion.
The aerospace industry sees growing opportunities in the Asia-Pacific, Middle East, and African regions.
Rising international tensions would create a demand for defense and security products.
The rise in satellite demand creates opportunities for the company.
Boeing has rich opportunities available to it, but we need to see how many of these opportunities it can cash in.
Article continues below advertisement
Threats
Threats, or business risks, represent external factors beyond the company's direct control that can negatively impact its prospects.
The company faces stiff competition from global competitors such as Airbus, Bombardier, and Embraer (ERJ) in different segments of the market.
Boeing's competition in the regional market is intensifying.
Further reductions in the US government's defense budgets due to sequestration could subdue the performance of Boeing's defense segment.
Although Boeing still enjoys dominance in the commercial aircraft market, these threats show that the company will have to up its game to stay on top of the aerospace market.
Weaknesses
Weaknesses stem from the company's own actions, largely due to inefficient handling of its operations.
Production delays, cost overruns, and technical problems in Boeing's 787 Dreamliner project has drained a lot of cash out of the company's projected estimates. This project has yet to generate positive cash flow for the company.
The majority of these problems stem from Boeing's partial adaptation of Toyota's outsourcing model, which we'll discuss in detail in Part 17.
The competition
Boeing's competitors include General Dynamics (GD), which forms 5.37% of the Industrial Select Sector SPDR (XLI); United Technologies (UTX), with 2.38% of XLI; Northrop Grumman (NOC), with 1.83% of XLI; and Raytheon (RTN), with a 1.82% holding in the ETF.
Next, we'll see how the diversification in revenues has helped Boeing grow.