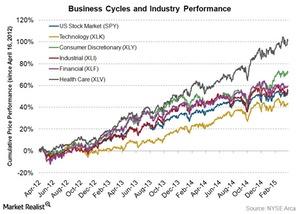 What Stage of the Business Cycle Are We In Now?
Sector performance varies with business cycle stage
As we saw in parts 2 and 3 of this series, sector performance varies with the business cycle stage an economy is in. Some tend to outperform during the early recovery phase, while others shine at the peak.
Let's take the case of the US economy (SPY) over the last three years. That might help us understand which phase of the business cycle the US economy is in right now. It may also help us figure out what sectors can be expected to outperform.
Article continues below advertisement
Article continues below advertisement
Healthcare, consumer, and technology sectors are outperforming
Analyzing industry performance over the last three years, we can see that the healthcare and consumer discretionary sectors are currently the leading sectors in terms of performance. The SPDR Health Care Select Sector ETF (XLV) has returned about 101.6%, while the Consumer Discretionary Select Sector SPDR ETF (XLY) has returned close to 71.6% over the last three years.
The healthcare and consumer sectors tend to perform well from middle recovery to the peak of the expansion phase. Stocks of healthcare sector firms such as Boston Scientific (BSX), UnitedHealth (UNH), and Anthem (ANTM) have gained about 35%, 51%, and 62%, respectively, over the past one year.
The technology sector has also delivered good returns. The sector performs well during a bull run. The Technology Select Sector SPDR ETF (XLK) has returned more than 42.8% over the last three years.
Financial sector is bearing the brunt of the currency wars
The financial sector tends to perform when stock markets are at the bottom but show signs of an early bull run. However, the US economy has seen a bull run for the past six years, leaving no scope for financials to lead the race.
Moreover, the strengthening US dollar has extinguished any speck of hope that the sector could see post recession. You can read US Banks Among the First to Fall to the Currency Wars for more insight.
Consequently, with the US dollar strengthening, the Financial Select Sector SPDR ETF (XLF) has lost about 2.3% since the beginning of the year.
So is the US economy nearing its peak? What do the indicators suggest?