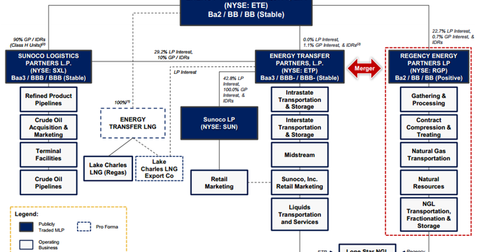 A Must-Know Overview of Energy Transfer Partners
By Kurt Gallon

Apr. 22 2015, Published 10:24 a.m. ET
Midstream MLP
Energy Transfer Partners (ETP), one of the largest publicly traded master limited partnerships (or MLPs) in the US in terms of equity market capitalization, has more than 43,000 miles of pipeline network, as well as other assets. As a midstream MLP, the company is involved in:
natural gas transportation and storage
natural gas liquids (or NGLs) transportation, storage, and fractionation services
product and crude oil transportation, terminalling, acquisition, and marketing activities
retail marketing of gasoline
Article continues below advertisement
Energy Transfer Group
The Energy Transfer Group is comprised of Energy Transfer Equity (ETE), Energy Transfer Partners (ETP), Sunoco Logistics (SXL), Sunoco LP (SUN), Regency Energy Partners (RGP), and many other unlisted companies. Energy Transfer Equity, which holds the GP (or General Partner) interest and IDRs (International Depository Receipt) in most of the group subsidiaries, is a pure play general partner with very few business assets. ETE holds 1.1% of GP interest and IDRs in Energy Transfer Partner and 0.7% GP interest and IDRs in Regency Energy Partners.
With the merger of Sunoco and Energy Transfer Partners in 2012, the group strengthened its position in transportation, terminating, and logistics of crude oil, NGLs, and refined products. We'll cover more about the partnership and recent mergers and acquisitions in later articles.
ETE, RGP, SXL, and ETP are all midstream MLPs. MLPs are structured as partnerships that do not pay corporate income tax, which gives them a tax advantage over other c-corps. For more detail on MLPs, refer to our MLP premier series.
Key ETFs and stocks
Investors can get exposure to Energy Transfer Group's companies by buying individual stocks of ETE, ETP, RGP, SUN, and SXL or through ETFs like the Alerian MLP ETF (AMLP), which tracks the Alerian Index (AMZ), a capital-weighted index of 50 energy MLPs. ETP, RGP, and SXL together constitute ~16.1% of the ETF.