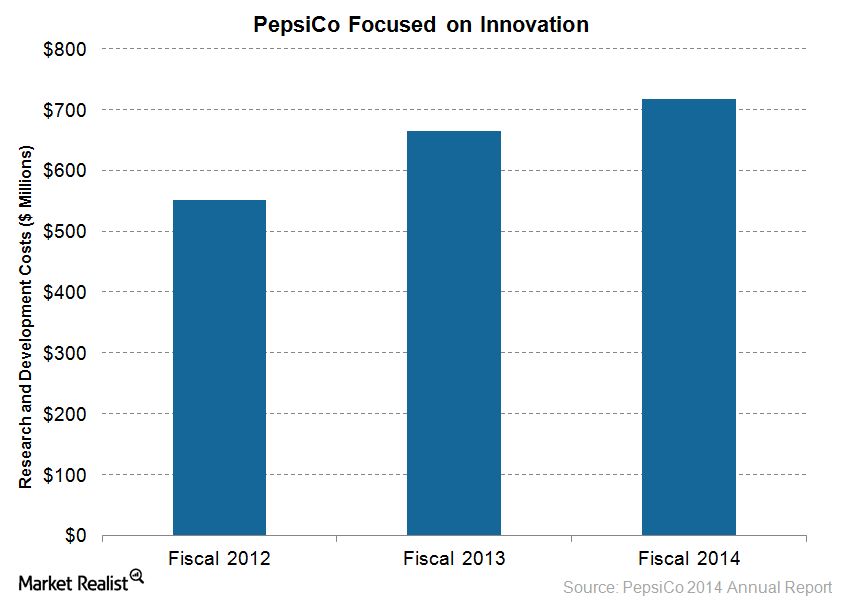 Why Innovation Should Drive PepsiCo's 2015 Revenue
Consumer-driven innovation
In April 2015, PepsiCo (PEP) launched two new protein-packed snack mixes under its Cracker Jack'D food brand. PepsiCo focuses on innovation for healthier food and beverage options, based on the shift in consumer preference towards better products with less salt and sugar. The company is also developing new products based on local tastes and choices. Recently launched products include New Mountain Dew Kickstart varieties, like drinks with less sugar, Propel Electrolyte Water under the Gatorade brand, low-calorie Lipton sparkling tea, and Quaker Real Medleys Supergrains.
Article continues below advertisement
According to PepsiCo, recent product introductions like Tostitos Cantina, Mountain Dew Kickstart, and Pure Leaf registered double-digit growth in annual retail sales in 2014 after generating sales of over $100 million in their launch year. PepsiCo's research and development expenditure increased by 8.0% to $718 million in 2014, compared to $665 million last year. In 2014, PepsiCo opened a global innovation center in Mexico and its first innovation facility in the Middle East.
Healthier variants
Keeping in mind the growing demand for healthier products, PepsiCo is focusing on what it calls "Better-For-You and Good-For-You brands." In 2014, the company's nutrition products accounted for ~20.0% of its net revenue. The company is developing new categories involving fruits and vegetables, whole grains, protein, and sports nutrition and hydration. PepsiCo is also focusing on growth categories, such as dairy, baked grain snacks, and hummus and other fresh dips.
Industry-wide trend
PepsiCo's peers are also focusing on capturing the growing demand for healthier products. About 50.0% of innovation projects in Dr Pepper Snapple's (DPS) pipeline are focusing on bringing down calories, offering smaller portions, and improving nutrition. In February 2015, Mondelez International (MDLZ) acquired Enjoy Life Foods, a private snack food company that makes allergy-friendly and gluten-free products.
PepsiCo, Dr Pepper Snapple, and Mondelez together account for ~1.2% of the portfolio holdings of the SPDR S&P 500 ETF (SPY) and 8.7% of the Consumer Staples Select Sector SPDR Fund (XLP).