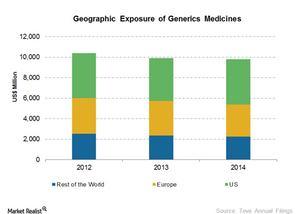 Teva's Generics Medicines Segment Is Geographically Diversified
By Nicole Sario

Apr. 9 2015, Published 2:08 p.m. ET
Geographic exposure in generics
Teva Pharmaceutical Industries Ltd. (TEVA) has diversified its generics business globally. The United States is Teva's largest market. In 2014, Teva generated 45% of its generic revenues in the United States, 32% in Europe, and 23% in rest-of-the-world (or ROW) markets, primarily Japan, Canada, and Russia. In the same year, Actavis (ACT) generated 61.9% from the sale of generics in the United States.
Article continues below advertisement
In 2014, generic revenues were $9,814 million, a decline of 89 bps (basis points) from the previous year. However, in local currency terms, sales increased by ~100 bps. US generics amounted to $4,418 million, an increase of 6% on a year-over-year basis. This was primarily due to new product launches.
Generic revenues from Europe were $3,148 million in 2014, a decrease of 6% on a year-over-year basis. In local currency, revenues declined by 7%. This was due to Teva's new strategy to focus on profitable markets.
Revenues from generics in ROW markets were $2,248 million, a decrease of 5% year-over-year. In local currency, revenues increased 4%. This was due to higher revenue generation in certain Latin American markets and Canada, partially offset by lower revenues in Japan.
Key products
In 2014, Teva launched 22 generic products in the United States, 209 in Europe, and 87 in ROW. The following are some of the significant generic products Teva sold in the United States in 2014:
Pulmicort (budesonide inhalation)
Xeloda (capecitabine) ~$754 million
Lovaza (omega-3-acid ethyl esters) ~$1.1 billion
Niaspan (niacin extended release) ~$1.12 billion
Evista (raloxifene) ~$824 million
Tobi (tobramycin) ~$350 million
The above US annual markets for generic products are for fiscal 2013, according to IMS Health.
Teva's generics potential can be capitalized through investments in ETFs such as the iShares U.S. Healthcare ETF (IYH), which covers generic companies such as Hospira (HSP), Mallinckrodt Plc (MNK), and Mylan (MYL).