How Dunkin Donuts Is Embracing Technology
Dunikin' is embracing technology with a phone app that allows you to search Dunkin' Donuts locations, see nutritional information, and gift Dunkin' treats.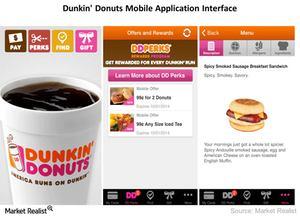 Using technology to grow same-store sales
Embracing technology can result in rewards well beyond a restaurant's expectations. In a world where you have the ability to search for a restaurant and order and pay for food on a phone, there's huge potential for companies to capitalize on this trend.
Domino's Pizza (DPZ), for example, earns 45% of its revenue through digital platforms. Starbucks (SBUX) gives the ability to manage the reward program and make payments through its phone app. McDonald's (MCD) introduced Apple Pay in its US market. MCD and SBUX are held by the consumer discretionary ETF (XLY), which holds 37% of retail stocks in its portfolio.
Dunikin' Brands (DNKN) has a similar strategy for embracing technology in order to make use of digital platforms. It has a phone app (application) that allows you to search for the nearest Dunkin' Donuts location, see nutritional information, and gift Dunkin' treats.
The mobile app also lets you manage your rewards, called DD Perks. The company launched this loyalty program in January 2014. As of December 27, 2014, there were more than 10.5 million downloads through this app. Krispy Kreme (KKD) also has a similar app for smartphones.
Article continues below advertisement
Article continues below advertisement
Pushing promotions
Dunkin' Donuts also uses the DD Perks app to push promotions. The app gives the customer a more personalized promotional experience. Starbucks has successfully implemented this strategy. It allows several promotions to its customers, including a free drink in the birthday month or an upgrade upon registering the loyalty card. To learn more about how successful Starbucks' digital initiative is, read An Investor's Guide To Starbucks Corporation.