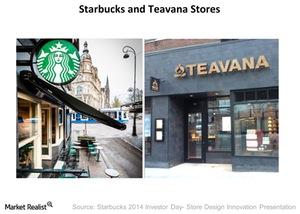 A Business Overview Of Starbucks Corporation
Starbucks Corporation
Starbucks Corporation (SBUX) is a limited-service café. It operates more than 20,000 restaurants across 65 countries around the world. It employs more than 191,000 people.
SBUX operates four brand names:
Starbucks
Teavana
Seattle's Best Coffee
Evolution Fresh
All of the brands offer a variety of beverages to its customers.
Article continues below advertisement
Article continues below advertisement
The café restaurant concept
Cafés don't offer lunch or dinner. They focus on beverages and the breakfast daypart. Cafés usually prepare orders to go. However, they can offer seating areas and free Wi-Fi connections for the customers. We'll discuss SBUX's daypart revenue contribution later in this series.
Cafés include Dunkin' Brands (DNKN), SBUX, Tim Hortons (THI), and Krispy Kreme (KKD). In fiscal year 2013, DNKN had sales worth $0.7 billion. SBUX had sales worth $11 billion. THI had sales worth $3.2 billion. KKD had sales worth $0.5 billion.
To learn more about the café and other restaurant formats, read Part 4–8 of this series. You can also read An in-depth overview of the U.S. restaurant industry.
You can consider a broader portfolio for holding restaurant stocks—like the SPDR S&P 500 ETF (SPY).
Food services
SBUX is mainly known for retailing and marketing coffee and related products. The menu includes specialty coffee, hand-crafted coffee, frappuccinos, the Pumpkin Spice Latte, and a variety of coffee-related beverages and products. SBUX also offers tea and breakfast items.
Teavana, as you may have guessed from the name, offers a wide variety of tea and tea-related products.
Series overview
In this overview series of SBUX, we'll look at the company's financial performance, value drivers, competition, unit growth, and information. This series will help you understand SBUX more.
In the next part of this series we'll looking at SBUX's revenue growth.