Dunkin' Brands Has a Nearly 100% Franchise Model
Benefits to a franchise model include low need for capital, more focus on brand in marketing and menus, and a potential to penetrate faster into the market.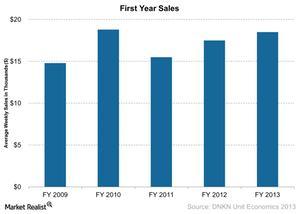 The franchise model
Restaurant chains use a combination of two business models: company-owned stores and franchises. These models grow their respective brands in regional as well as international markets. Dunkin' Brands (DNKN) runs a nearly 100% franchise model. Burger King (QSR) and Wendy's (WEN) are heading in this direction.
There are several benefits to a franchise model. Some of them are low need for capital, more focus on brand by way of marketing and menu innovation, and a potential to penetrate faster into the market.
Article continues below advertisement
Article continues below advertisement
Terms of franchise
A franchisee can either develop a single location or multiple locations to develop a region. But before receiving franchise rights, a franchisee must meet requirements stipulated by Dunkin' Brands. Dunkin' evaluates the potential franchisee's financial capacity, including net worth and liquid assets.
The average initial capital expenditure for one Dunkin' Donuts location is $450,000. The average unit volume amounts to about $936,000, according to the company. The initial franchise fee ranges from $25,000 to $100,000. Royalties range from 5% to 6% for Dunkin' Donuts in the United States. Average weekly sales exceeded $15,000 over the past four years, as you can see in the above chart.
Average unit volume is the average of the sales at Dunkin' Donut locations over the year. The company doesn't provide a guarantee for the financial obligation of the franchisee. This can be a deterrent for potential franchisees.
Hybrid model
Some restaurant chains such as McDonald's (MCD), KFC's parent Yum! Brands (YUM), and Panera Bread (PNRA) operate a hybrid of company-owned and franchise stores. Other restaurant chains such as Chipotle Mexican Grill (CMG) have only company-operated business models. Restaurants fall under the consumer discretionary sector (XLY)(RXI). XLY holds about 1% of CMG.