Dunkin' Brands Diversifies Its Daypart Focus
Dunkin' Brands is now expanding into the afternoon daypart in order to win customers in a different daypart and improve sales leverage.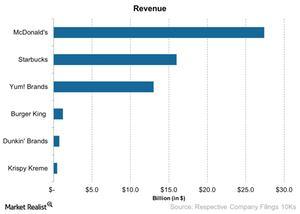 Competing in coffee and breakfast daypart
Dunkin' Brands' (DNKN) major revenue segment is Dunkin' Donuts. The restaurant's busiest time is during the breakfast daypart between 5 a.m. and 11 a.m. Other prominent players in this daypart are Starbucks (SBUX), Tim Hortons under the umbrella of Burger King (QSR), and Krispy Kreme Doughnuts (KKD).
Restaurants such as McDonald's (MCD) and Yum! Brands (YUM) have made efforts to get into this daypart. McDonald's, for example, opened its first McCafé in 2001. Yum! Brands introduced breakfast at Taco Bell in 2014. This is positive for consumer discretionary ETFs (XLY)(RXI).
Dunkin' Donuts also faces competition from 7-Eleven, Dairy Queen, Panera Bread (PNRA), Wawa, Subway, and Wendy's (WEN).
Article continues below advertisement
Article continues below advertisement
Competition
As of December 2014, about 57% of Dunkin' Donuts' franchisees had sales from coffee and related products. These coffee-centric sales are stacked up against eight billion restaurants that were serving coffee in the United States, according to CREST.
Expanding dayparts
Dunkin' Brands is now expanding into the afternoon daypart. Restaurant companies are positioning themselves to win customers in different dayparts in order to improve sales leverage.
Sales leverage can be explained as a restaurant that focuses, for example, on the lunch and dinner dayparts but is also keeping the location functioning during the breakfast daypart. Since it doesn't have to pay extra rent for the morning daypart, the restaurant can employ additional resources and add a breakfast revenue stream to its lunch and dinner revenue stream.