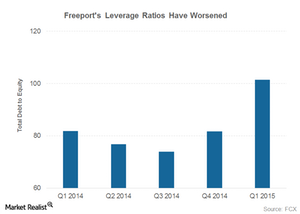 Cash-Starved Freeport Looks at IPO of Energy Business
Energy business
As we've already seen, Freeport-McMoRan (FCX) took a beating in its 1Q15 earnings as crude oil prices corrected sharply. In its earnings conference call on April 23, Freeport said it might look at selling a minority stake in its energy business. It might come out with an IPO (initial public offering) of its oil and gas subsidiary later in the year, subject to market conditions and regulatory approvals.
Article continues below advertisement
Article continues below advertisement
The cash raised from the IPO would help the cash-starved company fund its capital expenditure needs. Earlier, Freeport was looking at selling some of its energy assets. However, the move was curtailed since it couldn't strike deals at expected prices. Freeport currently forms 3.25% of the SPDR S&P Metals and Mining ETF (XME).
Competition
Meanwhile, BHP Billiton (BHP) is demerging its non-core assets into a new entity called South32. The shareholder approval vote for the demerger will be held on May 6. Vale S.A. (VALE), the leading iron ore miner globally, has also indicated it might go for an IPO of its base metals segment.
Higher leverage ratios
Freeport's leverage ratios have surged in the last couple of quarters. The above chart shows the total debt-to-equity ratio for Freeport. At the end of 1Q15, Freeport's total debt is more than its equity. Analysts view this as a sign of riskiness of a stock. Moreover, due to its capital expenditure needs, Freeport has generated negative free cash flows in four out of the last five quarters.
Turquoise Hill Resources (TRQ) actually has negative net debt. It repaid all long-term debt on its balance sheet after a rights issue. Freeport also had negative net debt in 4Q12, but then it borrowed heavily to invest in energy assets.
In the next part, we'll take a look at Freeport's 2015 outlook.