The Boeing Company's Narrow-Body Aircraft
The Boeing 737 is the best-selling commercial airliner in history. Reliable and economical, the 737 dominates the short- and medium-haul markets.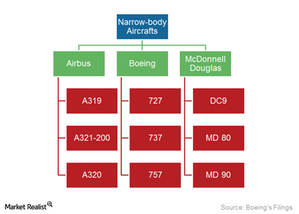 Narrow-body aircraft
The Boeing Company's (BA) narrow-body airliners have cabin diameters typically ranging from 10–13 feet wide, with seating configurations that vary from two to six across. These are smaller planes with a single aisle separating the seats, with sufficient room for passengers to move about the cabin comfortably. They also contain passenger amenities such as lavatories, in-flight entertainment, and baggage compartments.
These aircraft primarily serve short- or medium-haul domestic routes. They typically accommodate up to 150 passengers and about five to ten crew members. The common cabin configurations range from three seats across to seven across.
The three- and four-across cabin types are generally used for short hauls or by private charters for groups such as professional sports teams. The rest are used by domestic airliners to transport passengers along their routes.
Article continues below advertisement
Article continues below advertisement
Leading narrow-body aircraft
The most popular single-aisle, narrow-body planes include the following, listed by manufacturer and aircraft type, including several variants as commissioned by each airline:
Airbus (EADSY): A319, A321-200, and A320
Boeing (BA): 727, 737, and 757
McDonnell Douglas: DC9, MD 80, and MD 90
Embraer (ERJ): E-Jet family and ERJ 145
In 1997, The Boeing Company acquired McDonnell Douglas in a merger. Boeing comprises 3.64% of the iShares US Industrials ETF (IYJ) and 5.17% of the Industrial Select Sector SPDR ETF (XLI). Other companies included in IYJ are United Parcel Service (UPS), Accenture (ACN), and Danaher (DHR), with 2.57%, 2.05%, and 1.93% holdings, respectively.
The 737: Narrow-body workhorse
In the narrow-body aircraft segment, the Boeing 737 is the best-selling commercial airliner in history. The 737 dominates the short- and medium-haul markets. It is popular for its reliability, simplicity, and economical operation. These workhorses carry 85–215 passengers and are twin-engine, single-aisle planes.
Some of Boeing's variants currently in production are the 700, 800, 900ER, C-40, 737 AEW&C, and P-8 series of airliners. Its most advanced model is the 737 MAX, which uses the CFM International LEAP-1B engines. This segment is expected to see continual innovation to enhance dispatch reliability and fuel economy.
Boeing also produces an advanced version of the 737 called the Boeing Business Jet (or BBJ), catering to the private jet niche. Boeing also finds many applications in the 737's passenger, BBJ, and cargo variants for government and military uses.