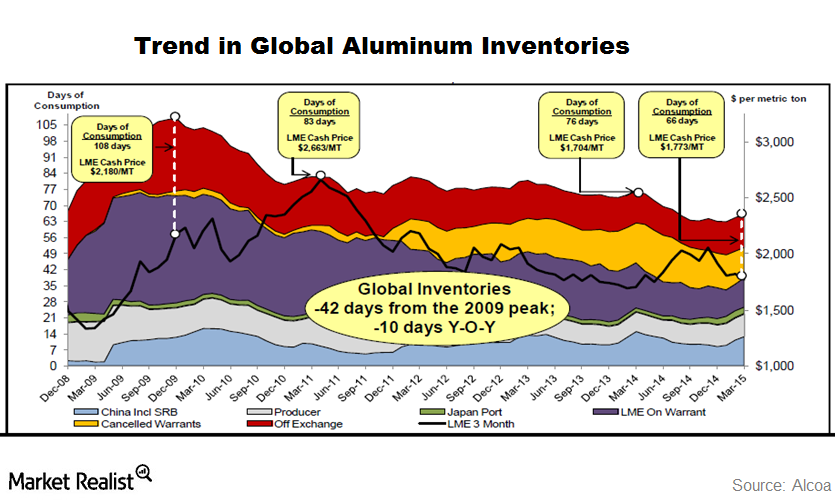 How Do Aluminum Inventories Work?
Aluminum inventories
In the previous part, we saw that aluminum inventories with London Metal Exchange (or LME) registered warehouses have declined this year. Aluminum inventories have been on a decline for almost two years. Interestingly, the aluminum market has been in a surplus for a decade. This basically means that aluminum's production has been more than its demand.
So if aluminum's production exceeded its physical demand, aluminum inventories should have increased. Aluminum inventories with LME warehouses, however, have come down. There are two aspects to this phenomenon. First, most aluminum surplus has been in China (FXI). Chinese aluminum production has exceeded its domestic demand for 11 months in a row.
Article continues below advertisement
Non-LME registered warehouses
Some of the physical metal has been moving away to non-LME registered warehouses. These warehouses typically charge less rent than LME warehouses. Moving the metal to non-registered warehouses also helps avoid increased scrutiny due to new LME warehousing regulations.
Days of inventory
The above chart shows the estimated aluminum inventory with various stakeholders. Please note that this estimate has been provided by Alcoa (AA) in its 1Q15 earnings release. The important point to note in the chart is that aluminum inventory in March was equivalent to 66 days of aluminum demand. This represents a year-over-year decline of ten days. Global inventories are down 42 days from their peak in 2009.
Lower days of aluminum inventory are positive for aluminum producers like Alcoa (AA). Aluminum inventory equivalent to two months' demand is viewed as a healthy metric by industry experts.
Aluminum demand continues to be healthy in 2015. Alcoa expects aluminum demand to increase 6.5% this year. Alcoa currently forms 3.5% of the SPDR S&P Metals and Mining ETF (XME). Reliance Steel & Aluminum (RS) and Allegheny Technologies (ATI) each forms ~3.9% of XME.
You can learn more about the aluminum industry by visiting Market Realist's aluminum page.