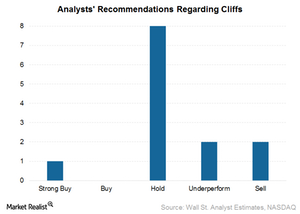 What's the Current Market Sentiment for Cliffs Natural Resources?
Market sentiment for Cliffs
In this article, we'll analyze several measures that determine the current market sentiment for Cliffs.
Article continues below advertisement
Analyst recommendations
Market expectations for Cliffs Natural Resources (CLF) are varied. Of the 13 analysts covering Cliffs, eight have hold, one has buy, and four have sell recommendations for the stock. This shows that the consensus forecast advises investors to hold their positions in the company.
Analyst downgrade
Axiom Capital Management has downgraded Cliffs Natural Resources' stock from a hold rating to a sell rating. It also reduced the target price from $9 to $2 on March 9. This led Cliffs stock to fall 10% in a single day.
Axiom's rationale for the downgrade was that currency devaluation versus the US dollar means the cost curve for Cliffs' competitors is lower. This, coupled with depressed iron ore prices, is negative for the stock.
Article continues below advertisement
Moody's downgrades CFR
Moody's Investors Service downgraded Cliffs' corporate family rating (or CFR) and probability of default rating to B1 and B1-PD, respectively. CFR is an opinion of a corporate family's ability to honor all of its financial obligations.
This downgrade, according to Moody's, reflects expectations for a weaker performance in the Asia Pacific iron ore (or APIO) segment. This segment has a greater exposure to the movement of iron ore prices in the seaborne market.
As far as market sentiment is concerned, Cliffs Natural Resources (CLF) seems to be on the receiving end. Most of it is due to the worsening current and future outlook for iron ore prices. This in turn is due to the supply glut by players such as BHP Billiton (BHP), Rio Tinto (RIO), and Vale S.A. (VALE). These three stocks form 31.6% of the iShares MSCI Global Metals & Mining Producers ETF (PICK). The SPDR S&P Metals and Mining ETF (XME) also invests in this space.
Cliffs recently went for a debt exchange offer. We'll discuss the details of the offer and possible implications for Cliffs in the next part.