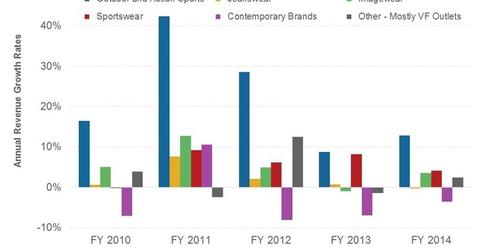 VF Corporation's Big 3 And Other Brands In The Making
By Phalguni Soni

Updated
VF Corporation outperformers
Outdoor and Action Sports is VFC's largest segment. It accounted for ~59% of revenues, or $7.2 billion, in 2014. The segment's revenues came in at $2.2 billion, or ~61%, of the total in the fourth quarter, which saw double-digit growth for most brands. The segment, or "coalition," as VFC terms its segments, has also been the best-performing segment for the company over the past few years.
For a detailed segment overview, read Making It To VF Corp.'s $2-Billion Brand Club.
Article continues below advertisement
The company's three major brands—The North Face, Vans, and Timberland—all reported double-digit growth rates in the quarter, contributing the lion's share to overall revenue growth. The North Face and Vans are also VFC's most prolific brands, earning annual revenues of over $2 billion. VFC expects Timberland, acquired in 2011, to soon follow the same path.
Vans
Vans became the second VFC brand to breach the psychological $2 billion level in annual sales. Reported sales grew 17% year-over-year. This was the 25th straight quarter in which Vans clocked double-digit sales growth.
Article continues below advertisement
The North Face
The North Face, with 2014 revenues exceeding $2.2 billion, is the only other brand in VFC's portfolio with annual sales exceeding $2 billion. Revenue drivers for The North Face include the new innovative outerwear brand, Thermoball. Last year's Mountain Athletics range of outerwear did particularly well, in line with a trend favoring action-sports-related gear and apparel. VFC will leverage the success of this product and include a new line for women in 2015.
Award-winner
Another notable innovation in 2014 was the Fuse Form fabric. The Fuse Form Brigidine jacket, which is used in mountain climbing, was named Outside Magazine's "2015 Gear of the Year."
Article continues below advertisement
Timberland
The turnaround for Timberland is well underway. Reported revenues for 2014 came in at ~$1.8 billion, the highest ever for the brand. Revenues grew 13% in 2014, ahead of the 12% projected by the company at September's Timberland Investor Day. Same-store sales in the Americas exhibited double-digit growth for the fifth consecutive quarter. Higher sales of footwear for both men and women, as well as outerwear and casual apparel, were most pronounced.
Other firms operating in the outdoor and action sports category, including Cabela's (CAB), Columbia Sportswear (COLM), and Under Armour (UA), also reported healthy sales growth in their last-reported quarters. CAB revenues beat Wall Street estimates, growing 7.2% in 2014 to $1.3 billion. COLM revenues grew 25% to $2.1 billion in 2014, a new record for the firm.
As of February 26, 2015, Cabela's (CAB) made up ~1.0% of the SPDR S&P Retail ETF (XRT).
Cracking VFC's $1 billion brand club
Kipling and Napapijri were respectively the fastest growing brands of the year and the quarter. They're on track to crack the $1 billion brand club for VFC. This will boost prospects for VFC's Outdoor and Action Sports segment even further.