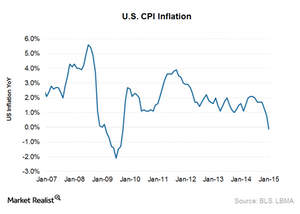 US inflation rate hits negative for the first time since 2009
By Anuradha Garg

Updated
Inflation hedge
Investors hold gold in their portfolios as an inflation hedge. Usually when inflation is high, the value of paper currency falls in terms of goods and services for which it can be exchanged. This leads investors to look for something that doesn't lose its value.
Gold is a great alternative for this scenario. So gold usually has a direct relationship to inflation. Gold demand increases during periods of high inflation and falls when inflation is low.
Article continues below advertisement
Tracking US inflation
US investors can track US inflation using the Consumer Price Index (or CPI). It measures how the price of a basket of consumer goods and services changes. The CPI measures a general increase in the level of prices.
CPI data are released by the U.S. Bureau of Labor Statistics on a monthly basis. Another measure is personal consumption expenditure (or PCE), but here we'll focus on CPI.
Falling US inflation 
The US CPI reading for the month of January was -0.1%. According to the U.S. Bureau of Labor Statistics, this is the first negative US inflation reading since October 2009. December's inflation was 0.8%.
On average, consumer prices fell 0.7% in January from December. This is biggest one-month decline since 2008. The decline is mainly due to falling energy prices, which fell 18.7%.
Low inflation is a negative for gold stocks. But any sustained weakness in inflation over an extended period of time is bad news for the economy in general. That's not the case in the United States right now.
Low US inflation has a negative effect on gold stocks such as Goldcorp (GG), AngloGold Ashanti (AU), Newmont Mining (NEM), Agnico Eagle Mines (AEM), and gold-backed ETFs such as the SPDR Gold Trust (GLD) and the VanEck Vectors Gold Miners ETF (GDX).
Goldcorp makes up 10.2% of GDX, the largest percentage of the fund's holdings. These ETFs invest in all of the stocks mentioned above.
Inflation impacts how people look at gold, but so do inflation expectations. In the next part of this series, we'll explore what goes into US inflation expectations.