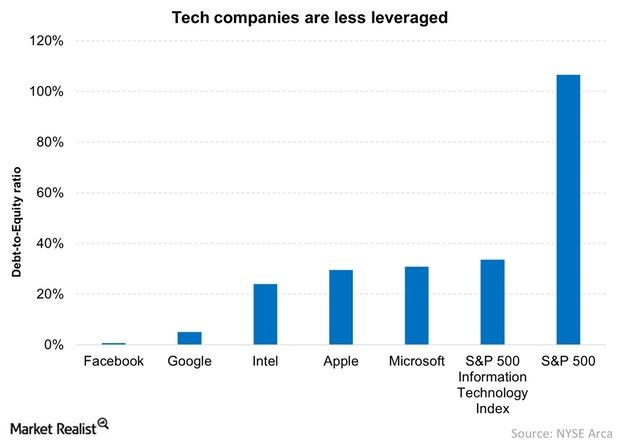 Relatively Low Leverage Gives Tech Companies Flexibility
By Heidi Richardson

Mar. 13 2015, Updated 10:06 a.m. ET
Cash-fortified, low debt
Some industry-leading companies have been hoarding cash. Consider that four information-age bellwethers―Apple (AAPL), Microsoft (MSFT), Google (GOOG) and Cisco (CSCO)―possess a combined $345 billion in cash. And the overall tech sector holds more than half of total corporate cash reserves in the U.S.
Article continues below advertisement
Market Realist – Relatively low debt-to equity ratio gives tech companies flexibility
As we learned in the previous part of this series, mature tech companies are rich. In fact, "rich" is a bit of an understatement!
The debt-to-equity ratio, or DE ratio, is a measure of a company's financial leverage and is calculated by dividing its total liabilities by stockholder equity. It indicates what proportion of equity and debt the company is using to finance its assets.
The graph above shows the DE ratio of several top technology companies. It suggests that the broader markets are much more leveraged than tech stocks.
Facebook (FB) has negligible debt on its books, while Google, Intel (INTC), Apple, and Microsoft have slightly higher DE ratios of 5%, 24%, 29.5%, and 30.1%, respectively.
The S&P 500 Information Technology Index has a DE ratio of 33.7%. The S&P 500 (SPY)(IVV) is much more highly leveraged, with a DE ratio of 106.6%, meaning more debt than equities. Clearly, technology stocks are, in general, far less leveraged than the other stocks in the S&P 500.
Debt is a cheaper source of capital than equity. So, a higher proportion of debt will lead to a lower cost of capital. But if interest rates rise, your resources could become strained, as debt payments are compulsory. That's why a higher ratio could be risky.
Given the amount of cash that mature tech companies have, they can afford to increase their debt levels a little to spend on capital expenditure or R&D (research and development). This gives them an extra edge over the broader market.