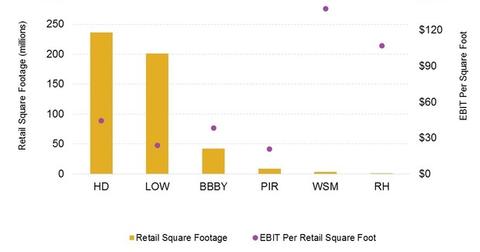 Marketing at Home Depot Designed for Customer Base
By Phalguni Soni

Updated
Home Depot's marketing strategies
As explained in the last part of this series, customer service is a lynchpin of Home Depot's (HD) marketing efforts. Besides marketing its customer service, the company markets different programs according to its three major types of customers.
Article continues below advertisement
Catch 'em young
Home Depot's regularly organizes workshops and clinics. These are targeted at mostly the do-it-yourself customer. Workshops and clinics provide both a learning experience and an emotional connection for customers.
The company boasts the world's largest garden club. Over a million children have attended its kids workshops. These are potential future Home Depot customers.
Loyalty programs
In 2013, the company introduced a new loyalty program called Pro Xtra. This program exclusively targets professional customers. Its benefits include product discounts, exclusive product offers, and a tool to track purchases and receipts online. It also enables tracking purchases by job via multiple payment types.
In contrast, HD's competitor Lowe's (LOW) offers a loyalty program, MyLowe's, that's available to all shoppers. MyLowe's allows customers to create an online inventory for their home, including room profiles and a record of Lowe's purchases.
Article continues below advertisement
Private label credit accounts
Home Depot offers a co-branded credit card with Citibank (C). The impact of this partnership is considerable. Nearly 2.8 million new customers applied for a card in fiscal 2014. At the end of the year, the number of private label credit accounts numbered ~11 million. These accounted for ~23% of total sales in the year, up from 22% in fiscal 2012.
Product exclusives and customization
Home Depot attracts customers by selling innovative and exclusive products. It's launching a new Color Solutions center for paints this year that will include Behr from Masco (MAS), Glidden (PPG), and its own Home Decorators Collection brands.
The company's also planning to rollout exclusive tools targeted toward professional customers from brands like Milwaukee, Makita, and Dewalt.
Exclusive launches of new grills from brands like Nexgrill, Weber, and KitchenAid are slated to hit stores this spring. It also has exclusive deals on patio products with Brown Jordan. Offering customization for products like patios boosts sales.
HD, LOW, MAS, C, and PPG together constitute 2.3% of the iShares Core S&P 500 ETF (IVV).
Black Friday events
Home Depot recorded the highest daily sales ever at its Black Friday event last quarter. It's planning another Black Friday event this spring. Spring usually sees a bump in sales due to seasonality factors. The exclusives at these events tend to drive customer traffic and spending.