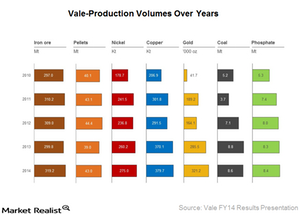 Key Earnings Takeaways from Vale's FY14 Results
By Anuradha Garg

Updated
Vale's FY14 results
Vale S.A. (VALE) announced results for full year 2014 on February 26, 2015. The results were a miss on market expectations, particularly in terms of costs of goods sold and other expenses incurred.
In this article, we'll look at key earnings takeaways from Vale's results. In the later part of this series, we'll see the exact cause for the market expectation miss.
Article continues below advertisement
Production records
Vale's (VALE) production side was quite strong in 2014. The company achieved production records in iron ore, copper, and gold. It had its highest annual production in nickel since 2008. We'll look in detail at the performance of each of these commodity segments in later parts of this series.
Vale's revenues totaled $38.2 billion in 2014, a decrease of 19.5% compared to 2013. The decrease was mainly due to lower iron ore sales of $9.2 billion and lower pellets sales prices. These were partly offset by higher iron ore sales volumes and higher pellet sales volumes.
Ferrous minerals contribution decline
An important thing investors should note is that the share of the ferrous minerals business in revenues decreased from 74.3% in 2013 to 68.4% in 2014. Ferrous minerals include iron ore, pellets, manganese ore, and ferroalloys.
Base metals increased its share from 15.4% in 2013 to 20.1% in 2014. This was due mainly to the improvement in nickel sales volumes and prices. Fertilizers grew its share from 6.3% in 2013 to 6.8% in 2014. Coal decreased to 1.9% from 2.1% in 2013, mainly as a result of lower sales prices.
Cost decline less than expected
Cost of goods sold (or COGS) amounted to $25.1 billion in 2014. This was an increase of $819 million compared to $24.2 billion in 2013. The increase was mainly a result of higher volumes.
Net income was $657 million in 2014 compared to $584 million in 2013. Underlying earnings amounted to $4.4 billion after excluding the one-off effects of foreign exchange and monetary losses, impairment, mark-to-market adjustments, and relinquishment of land associated with the renewal of PTVI's (PT Vale Indonesia) contract of work (or CoW) in Indonesia. PTVI is a subsidiary of Vale.
Among Vale's peers, BHP Billiton (BHP), Rio Tinto (RIO), and Cliffs Natural Resources (CLF) delivered strong results for the period ending 2014. This was due mostly to cost controls and productivity gains.
All listings of BHP, RIO, and VALE form 31.6% of the iShares MSCI Global Metals & Mining Producers ETF (PICK). CLF forms 2.9% of the SPDR S&P Metals and Mining ETF (XME).
Before we look at Vale's results in detail, let's briefly go over Vale's business segments and business overview.