JAT Capital Eliminates Exposure to SanDisk Corporation
JAT Capital sold its position in SanDisk Corporation (SNDK) in 4Q14. The position had represented 1.2% of the fund's third-quarter portfolio.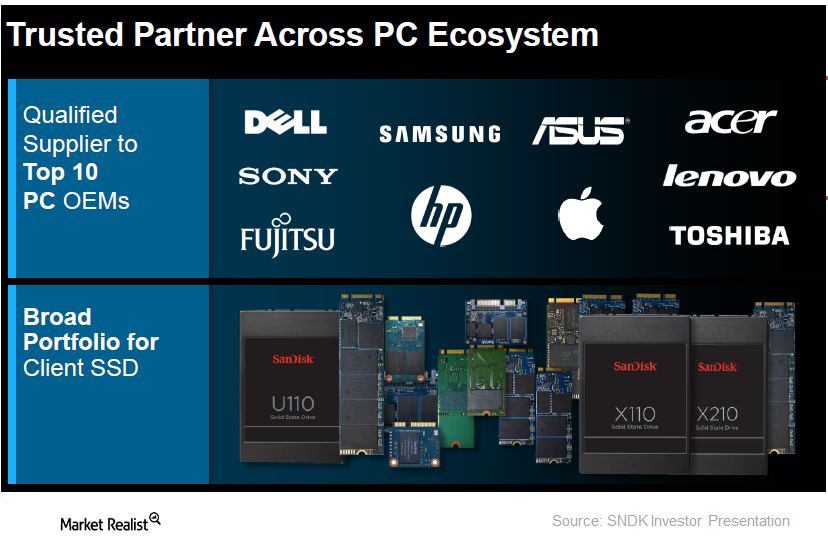 JAT Capital and SanDisk Corporation
JAT Capital sold its position in SanDisk Corporation (SNDK) during the fourth quarter of 2014. The position was worth $75 million and had represented 1.2% of the fund's third-quarter portfolio.
Article continues below advertisement
Article continues below advertisement
Company profile
With annual revenues of over $6.6 billion, SanDisk is a leading player in the flash storage solutions market. The company designs, develops, and manufactures a range of NAND flash memory solutions:
solid-state drives (or SSDs)
embedded flash products
removable cards
universal serial bus (or USB) drives
digital media players
wireless media drives
wafer and components
SNDK's products find applications in many everyday devices:
mobile phones
tablets
computing platforms
automobiles
PCs
gaming consoles
According to Statista, SNDK is the third-largest NAND flash memory manufacturer. SNDK has an 18% market share, while Toshiba (TOSBF) and Samsung (SSNLF) hold 22% and 28% of market share, respectively. Micron Technologies (MU), SK Hynix (HXSCL), and Intel (INTC), had market shares of 14%, 11%, and 7%, respectively.
SanDisk is a component of the iShares PHLX Semiconductor ETF (SOXX). The company makes up 3.16% of the ETF.
Purchase of Fusion-io
In July 2014, SNDK completed the acquisition of Fusion-io, which provides flash memory products to businesses in over 80 countries. The all-cash transaction had a total value of $1.1 billion, net of cash assumed. Sanjay Mehrotra, president and CEO of SanDisk, stated that "The tremendous engineering and go-to-market talent of the Fusion-io team will accelerate our efforts to enable the flash-transformed data center."
Article continues below advertisement
Spin-out of ioControl Solutions business
SNDK had acquired the ioControl Solutions business as part of the Fusion-io deal in 2014. Th ioControl Solutions business is a developer of hybrid storage devices. SNDK completed the spin-out of the business in January 2015.
Management has stated that hybrid storage solutions are not a core focus for the company. To suit the interests of its shareholders, SNDK spun ioControl Solutions out as an independent private entity known as NexGen Storage.
4Q14 performance
SNDK's fourth-quarter revenues remained relatively flat at $1.7 billion compared to the prior-year quarter.
Operating margin decreased by 10 percentage points YoY to 19%. This was mainly due to higher amortization and restructuring expenses related to the Fusion-io acquisition. Costs related to the spin-out of ioControl Solutions also contributed to the decrease in operating margin.
Net earnings on a per-share basis slid to $0.86 in 4Q14 from $1.45 in 4Q13.
In the next article, we will discuss JAT Capital's position change in Hertz Global (HTZ).