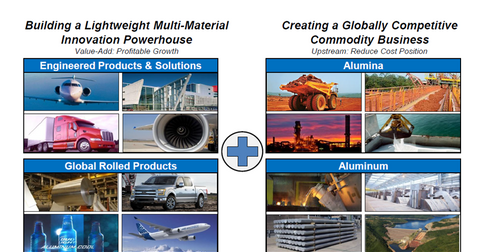 Why investors should understand Alcoa's transformation
By Mohit Oberoi, CFA

Mar. 17 2015, Published 10:22 a.m. ET
Alcoa's transformation
Alcoa (AA) is the largest aluminum company in the United States. It is among the top three aluminum producers in the world. However, over the last several years, Alcoa has been working on a transformation exercise.
During its investor's day last year, Alcoa (AA) chairman Klaus Kleinfeld noted that if he had an elevator speech regarding his plans for the company, he would say, "We're building these two gigantic engines. And the one engine of Alcoa is the lightweight, multi-material innovation powerhouse. And the other one is, we are creating a globally competitive commodity business."
Article continues below advertisement
Two-pronged strategy
Alcoa's transformation is actually a two-pronged strategy, as you can see in the above graphic. First, Alcoa plans to focus on lightweight multi-material innovations. It also plans to consolidate its primary business so Alcoa World Alumina and its primary aluminum production come under Alcoa's primary business.
Alcoa has also exited several high-cost production facilities. In its primary segment, the focus is now on increased profitability, not higher revenues.
Except for China, all major aluminum producers have reduced their aluminum smelting capacities. BHP Billiton (BHP) and Rio Tinto (RIO) have decreased their aluminum output in recent quarters. Other companies such as Century Aluminum (CENX) have indicated that they don't intend to add smelting capacities in the near future. Currently, Century Aluminum forms 3.99% of the SPDR S&P Metals and Mining ETF (XME).
Value-added business
Alcoa is transforming itself into a multi-material company. It's now focusing on developing innovative products to help its customers. It's looking to grow its value-added business and has made several acquisitions in this space.
In 2015, Alcoa has made several steps toward its transformation. We'll look at these in detail in our next part.