Home Depot's Strong International Business Opportunities
Home Depot expects to grow its international store count, particularly in Mexico. It plans to add five new stores in Mexico and one in Canada in 2016.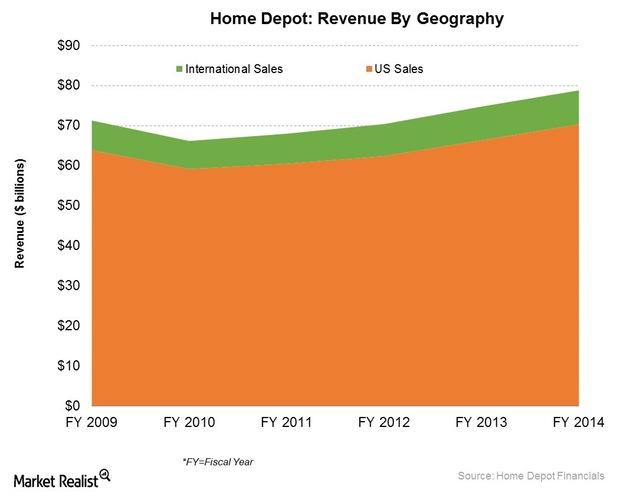 Overview of Home Depot operations in Canada and Mexico
Of Home Depot's (HD) 2,269 stores, ~13%, or 292, are located outside the US. The company operates 181 stores in Canada and 111 in Mexico. It's the largest home improvement (ITB) chain in Mexico. Archrival Lowe's (LOW), meanwhile, has a smaller retail footprint in the US and internationally, with a global store count of 1,840. Other rivals Pier 1 Imports (PIR), Williams-Sonoma (WSM), and Restoration Hardware (RH) have 1,074, 603, and 68 stores, respectively.
Article continues below advertisement
Article continues below advertisement
International growth
International sales constitute ~11% of Home Depot's sales. They've grown at a faster pace than the company's US sales. US revenue grew at a CAGR (compound annual growth rate) of 1.9% to $70.3 billion between fiscal 2009 to 2014. In contrast, international sales grew at a CAGR of 2.8% to $8.5 billion.
More importantly, in local currency terms, both Canada and Mexico have shown consistent positive comps, or same-store sales, growth. In 4Q15, comps sales were positive for the 45th consecutive quarter in HD's Mexico business. Its Canada operations showed positive comps for the 13th straight quarter.
International outlook
HD expects to grow its international store count, particularly in Mexico. It's looking to add six new stores in fiscal 2016—five in Mexico and one in Canada. It's also projecting same-store sales growth in the region of ~4.5%, in constant currency terms.
The outlook may be brighter in Mexico than in Canada. Growth in Mexico's economy tends to be closely linked to US economic performance. US growth has rebounded since the Great Recession of 2008. However, lower energy prices, which are a positive for US consumer spending (XLY), would affect Mexico's fiscal balance, as it's a major oil producer. This could impact economic growth and spending in Mexico.
The performance of the Canadian economy is dependent on global commodity and energy prices. The Bank of Canada lowered the base rate for the economy at its January meeting, which is good news for financing new homes and home improvement retailer chains like HD. Nevertheless, its . Canada's housing market may also be in bubble territory.
The depreciating Canadian dollar and Mexican peso may also reduce reported results for HD.