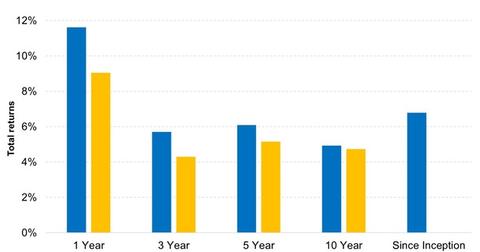 Why You Should Hold On To High Yield Municipal Bonds
By Peter Hayes

Updated
Hold onto high yield municipal bonds.
High yield munis did even better than the broader muni market in 2014, but I still have a hard time poking holes in the investment case. Investor thirst for income is high, which suggests continued demand for high yield munis. There's also limited supply. Taken together, that makes for a favorable equation.
Article continues below advertisement
Market Realist – High yield municipal bonds look attractive.
The graph above compares the average annual total returns on Vanguard High Yield Municipal Bonds Index with that of the Barclays Municipal Bond Index (MUB) over time. Both indices have done well in 2014, with returns of 11.6% and 9.1%, respectively. Over the long term, though, the returns have been a lot more subdued. Over the last ten years, average annual total returns for the two is 4.9% and 4.7%, respectively. Since 1978, though, the returns on the former have been 6%.
It's important to note that high yield municipal bonds, like high yield corporate bonds (HYG)(JNK), have higher yields due to the higher risk of defaulting. US Treasuries (TLT)(IEF), on the other hand, command a premium, as they're considered safe. High yield municipal bonds, like their corporate counterparts, do well when the economy improves, as the credit markets improve as well. With the US economy improving, high yield municipal bonds could perform well in 2015.
In the long term, like stocks (SPY), high yield bonds perform well, as the economy too improves in the long term.
There are two types of municipal bonds: general-obligation (or GO) bonds and revenue bonds.
GO bonds are backed by the cash flows of a locality as a whole—like the State of California or the City of Detroit.
Revenue bonds, on the other hand, are issued to fund a specific public spending project and are therefore backed by the cash flows generated from that specific project—like a toll highway or a hospital.
High yield municipal bonds usually belong to the latter category, as there's a higher credit risk for these types of bonds.