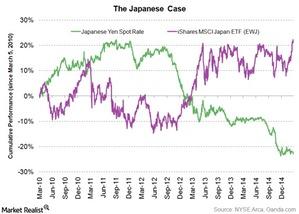 Currency war: Did it boost growth in Japan?
Japan is a classic case of a currency war
Japan is a classic case of how depreciating currency can boost economic growth. A stimulus package was launched in Japan in October 2010. It worked for Japan over the short term. The major turnaround in Japan's story only occurred after December 2012—under Prime Minister Shinzo Abe's regime.
Article continues below advertisement
Article continues below advertisement
Abenomics at work
The April 2013 stimulus package helped the iShares MSCI Japan ETF (EWJ) and the WisdomTree Japan Hedged Equity Fund (DXJ) gain around 19% and 31%, respectively, in price since April 2013. There was a simultaneous drop in the value of the yen. The yen depreciated 15% in value since April 2013.
Currency war boosted growth in Japan
The tiff between the Japanese yen and EWJ is visible in the above chart. Quantitative easing, or QE, measures in Japan—particularly the stimulus package launched by Shinzo Abe in 2013—played their part. This is reflected in the abrupt rise in EWJ and the corresponding fall in the Japanese yen.
Japan and the U.S.
Japan is the fourth largest destination for US exports—after Canada, Mexico, and China. US firms—like Tiffany (TIF), Coach (COH), and Harley-Davidson (HOG)—count on Japan for a major percentage of their sales. Any major upswing or downswing in Japanese growth directly impacts US firms that draw good revenue from the area.
In the next part of this series, we'll discuss whether the currency war in the US boosted economic growth.