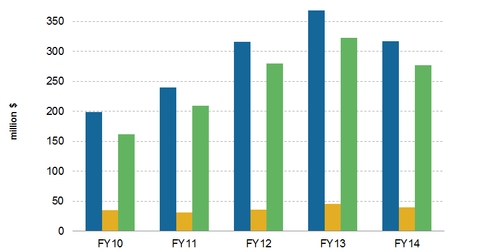 Cadence's cash flow and capital allocation strategy
By Santiago Solari

Updated
Healthy cash flow generation
Cadence Design Systems's (CDNS) strong operating performance translates to consistently positive operating cash flows. In fiscal 2014, cash flow from operations came to $317 million versus $368 million in the previous year. The decline was mainly due to unfavorable working capital movements.
Cash flow from operations was more than adequate to provide for maintenance capex (or capital expenditure) of ~$40 million, leaving the company with free cash flow of $277 million.
Article continues below advertisement
Increased but acceptable leverage
In 4Q14, Cadence Design Systems issued $350 million in senior unsecured notes with maturity set at 2024. The debt issuance resulted in higher leverage (debt to EBITDA, or earnings before interest, tax, depreciation, and amortization) of 2.08x versus 1.16x at fiscal year end 2013. In addition to the 2024 notes, including $342 million in convertible notes maturing in June 2015, Cadence's debt level of $691 million is still manageable, given its cash and liquid investments of $1.0 billion.
The company also has a fully unutilized credit line with a $250 million limit, as well as its strong free cash flow generation. Given the availability of financial resources, Cadence is set to pursue acquisition opportunities.
Accelerates share repurchase program
Cadence's board of directors authorized share repurchases up to $1.0 billion in 2008. In 3Q14, the company announced that the board approved an accelerated plan to repurchase $300 million of its 2008 authorizations within the next two fiscal years.
In fiscal 2014, the company repurchased $100 million of its common stock and currently has $714.3 million remaining on its 2008 buyback plan.
Key ETFs
Cadence Design Systems (CDNS) is a component of the  Vanguard Information Technology ETF (VGT) and makes up 0.13% of the fund. As its fortunes and business risks are closely related to the broader tech sector, investors can also consider an ETF such as the Technology Select Sector SPDR Fund (XLK).
XLK's key stocks include Apple (AAPL), Microsoft (MSFT), Cisco (CSCO), Oracle (ORCL), Facebook (FB), and Google (GOOGL). These stocks together make up around 40% of this ETF's portfolio.