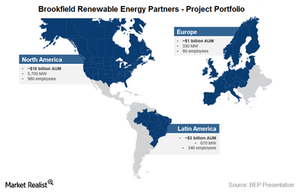 Brookfield Renewable Energy: Biggest Yieldco by Asset Base
Company overview
With over 6,700 MW of hydro and wind capacity under operation, Brookfield Renewable Energy Partners (BEP) dwarfs all other yieldcos we've looked at so far in this series. The company was floated by Brookfield Renewable Power, which is a part of Brookfield Asset Management (BAM).
Brookfield Asset Management (BAM) is a part of the Vanguard FTSE All-World ex-US ETF (VEU). BAM is rated Baa2 by Moody's (MCO). As of December 31, 2014, Brookfield Renewable Power held a 62% stake in BEP.
Article continues below advertisement
Portfolio
Hydro power assets account for almost 78% of the entire portfolio. Out of total 5,222 MW, hydroelectric capacity of 3,191 MW, or 61%, is located in the US, 1,361 MW, or 26%, is in Canada, and the remaining 670 MW, or 13%, is in Brazil. The company operates its hydroelectric plants on 72 river systems.
Brookfield Renewable Energy also operates 1,115 MW of wind capacity facilities spread across these areas:
the US – 724 MW or 65%
Canada – 220 MW or 20%
Europe – 171 MW or 15%
Customers
Related parties accounted for around 45% revenues in fiscal 2014. Apart from this bit of information, no other disclosures are available in the company's filings.
Article continues below advertisement
Dividend history
The company has a history of increasing its quarterly dividend. The most recently announced dividend of 41.5 cents a share is 7.8% higher than 4Q14's 38.5 cents.
Bottom line
As a foreign entity with such considerable operations, Brookfield Renewable Energy Partners isn't obligated to disclose. But as the largest yieldco, it certainly lacks adequate disclosures regarding its customer base and portfolio.
In the next part of this series, we'll take a look at the recently announced joint yieldco between First Solar (FSLR) and SunPower (SPWR).