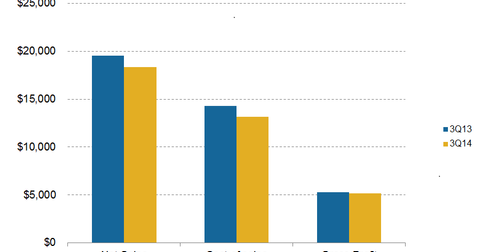 Blue Ridge Capital Opens New Position in Walgreens Boots Alliance
By Adam Rogers

Mar. 26 2015, Updated 4:06 p.m. ET
Blue Ridge Capital and Walgreens Boots Alliance
Blue Ridge Capital started a new position in Walgreens Boots Alliance (WBA). The fund bought 4,580,000 shares worth $338 million of Walgreens Boots Alliance. The position accounts for 4.23% of the fund's total portfolio as per the latest 13F filings for 4Q14.
Walgreens Boots Alliance has a 0.38% exposure to the SPDR S&P 500 (SPY). The ETF tracks the overall performance of 500 publicly traded companies in the growth sector.
Article continues below advertisement
Walgreens Boots Alliance
Walgreens Boots Alliance is a firm created by the merger of Walgreens and Alliance Boots in December 2014. The alliance brought together two of the biggest companies with iconic brands and a variety of healthcare services.
Walgreens Boots Alliance has a presence in over 25 countries. The company employs over 370,000 people worldwide. As stated by Walgreens Boot Alliance's management, the firm is:
"the global leader in pharmacy-led, health, and well-being retail with over 12,800 stores in 11 countries"
"the largest global pharmaceutical wholesale and distribution network with over 340 distribution centers delivering to more than 180,000 pharmacies, doctors, health centers, and hospitals each year in 19 countries"
"the world's largest purchaser of prescription drugs and many other health and well-being products"
Two companies merged
In December 2014, US drugstore chain Walgreens and Switzerland-based Boots Alliance completed the second step of the merger in order to form Walgreens Boots Alliance. The merger created the world's first pharmacy-led health and well-being enterprise. The stock trades on the stock exchange under the symbol "WBA."
The two-step merger was announced in June 2012. The firms completed the first step of the merger in August 2012. Walgreens invested $4 billion in cash and 83.4 million shares of common equity for a 45% stake in Alliance Boots.
The second step of the merger was completed in December 2014. It was completed following shareholder approval. Walgreens acquired 55% of the remaining stake for $3.5 billion in cash and 144 million shares of common stock.
Walgreens Boots Alliance is mainly comprised of three divisions:
Retail Pharmacy USA
Retail Pharmacy International
Pharmaceutical Wholesale
Article continues below advertisement
After the merger, Walgreens became a fully owned subsidiary of Walgreens Boots Alliance. Greg Wasson, the CEO of Walgreens, stated that "The creation of Walgreens Boots Alliance is a crucial milestone for both Walgreens and Alliance Boots, combining iconic brands, complementary geographic footprints, shared values and a heritage of trusted health care services through pharmaceutical wholesaling and community pharmacy care, each dating back more than 100 years."
Walgreen's sales increased by over 10% in December
In January 2015, Walgreens Boots Alliance reported sales of $7.92 billion in December 2014. This was a 10.2% increase compared to sales of $7.18 billion in December 2013.
Below are the year-over-year (or YoY) increases in sales for each of Walgreens Boots Alliance's segments in December 2014.
an increase in front end sales by 3.5%
an increase of 8% in prescriptions filled at comparable stores
an increase of 15.7% in pharmacy sales
an increase of 9.2% in sales of comparable stores
In addition to the above increases in sales, there was an increase of 2.6% for customer traffic in comparable stores.
Shareholder value
The share price of Walgreens Boots Alliance increased by almost 24% in 4Q14. Other companies in the industry include Omnicare (OCR) and CVS Health Corporation (CVS). Their share prices increased by 17% and 21%, respectively.
While Walgreens Boots Alliance and CVS have a 0.39% and 0.63% exposure to the SPDR S&P 500 ETF (SPY), Omnicare has a 0.44% exposure to the iShares Core S&P Mid-Cap ETF (IJH). SPY tracks the performance of 500 publicly traded companies in the growth sector. IJH tracks the performance of 400 companies in the same sector.
In the next part of this series, we'll discuss Blue Ridge Capital's new position in Facebook.