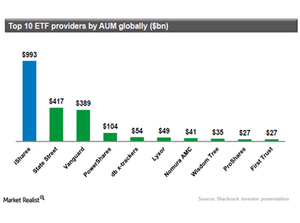 How does BlackRock compare to its peers?
BlackRock's peers
BlackRock (BLK) faces major competition in the ETF market from State Street (STT) and Vanguard. Together, these three players account for more than 80% of the US ETF market and 70% of the global ETF market.
So how does BlackRock compare to its peers? Vanguard has witnessed strong growth across its segments in 2014. The company added a record $75 billion in 2014 compared to the $37 billion that State Street added. Some of the major ETFs that witnessed higher inflows include iShares Core U.S. Aggregate Bond ETF and the Vanguard Total Bond Market ETF.
The other players making the most of the ETF story are Invesco (IVZ) and Deutsche Asset & Wealth Management (or Deutsche AWM), a division of Deutsche Bank (DB).
Article continues below advertisement
The European ETF market
The biggest asset managers across the European ETF market are focusing on gaining retail market share. In a bid to do so, they have engaged in a price war, which has resulted in further lower expense ratios.
BlackRock dominates the ETF market in Europe followed by Vanguard, Deutsche AWM, and Lyxor, part of Société Générale. State Street and other players have reduced expense ratios in order to gain market share.
In the last quarter of 2014, State Street (STT) cut fees on 15 ETFs by 15–65 basis points, a decrease in revenues of 15%–60%. STT provided the biggest cut to the SPDR S&P 500 ETF (SPY), the world's largest ETF. BlackRock reduced the expense ratio for its existing ETFs by almost 60%. It also introduced eight new ETFs in the European market.