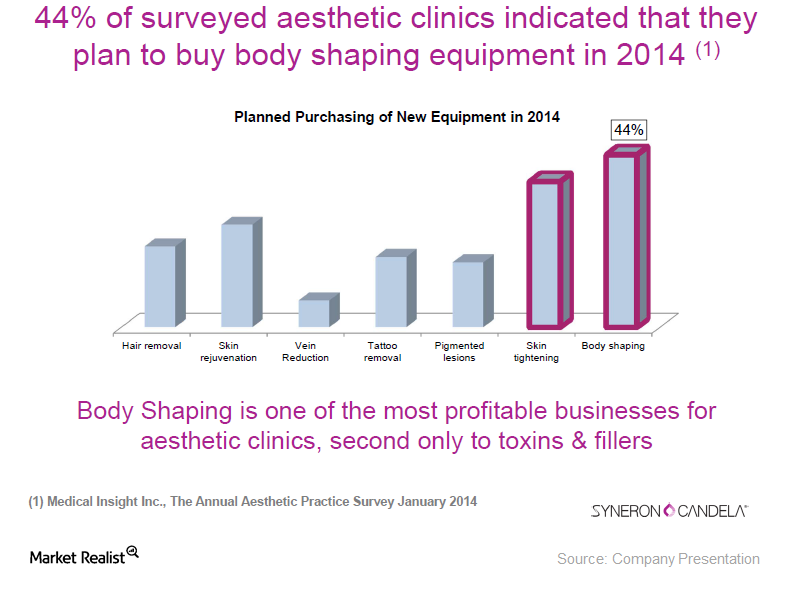 Baupost Group Slightly Reduced Its Stake in Syneron Medical
Baupost Group lowered stake in Syneron Medical
The Baupost Group lowered its position in Syneron Medical (ELOS) during 4Q14. The position accounted for a minor 0.4% of the total portfolio in 4Q14. The fund disclosed ownership of 2,416,310 shares—down from 2,994,610 shares in 3Q14.
Article continues below advertisement
Overview of Syneron Medical
Syneron Candela is a global aesthetic device company. It offers technology that helps physicians provide solutions for a broad range of medical aesthetic applications including non-invasive fat destruction, body contouring, hair removal, wrinkle reduction, and tattoo removal. It also focuses on improving the skin's appearance through the treatment of superficial benign vascular and pigmented lesions and treating acne, leg veins, and cellulite. Syneron Candela sells its products under the three brands—Syneron, Candela, and CoolTouch. Its other products include UltraShape, VelaShape, GentleLase, VBeam Perfecta, PicoWay, and elos Plus.
Trends shaping aesthetic products
Syneron's annual report cited Medical Insight, an independent research firm, and said, "sales of global aesthetic products in 2012 exceeded $5.7 billion and are expected to grow at an annual compounded rate of 11.6% through 2017, with North America, the largest single regional market, growing at 10.9%, Europe at 10.5% and APAC at 15.9%."
The company added that "non-invasive procedures, with body-shaping and fat reduction treatments among the high growth segments within the aesthetics industry." It also expects to benefit from demand for "energy-based aesthetic treatments" such as energy-based epilation, skin rejuvenation, skin tightening, tattoo and pigmented lesion removal, reduction of vascular lesions and acne treatment "which address major markets and offer benefits over conventional therapies." Demand is also high for hair removal products.
Article continues below advertisement
Competition intensifying with consolidation
Syneron noted that its offerings compete with Allergan's (AGN) Botox—neurotoxins, and treatments like hyaluronic acid injections, face lifts, sclerotherapy, electrolysis, liposuction, chemical peels and microdermabrasion. Its products also compete against those made by companies including Cutera, Cynosure (CYNO), Solta Medical, Lumenis (LMNS), and Zeltiq Aesthetics (ZLTQ).
Syneron is expected to see competition with new entrants in the market. With the acquisition of Medicis in 2012 and Solta Medical in 2013, Valeant Pharmaceuticals (VRX) expanded its suite of medical aesthetic devices. Cynosure has a 0.02% exposure to the Vanguard Health Care ETF (VHT).
Recently, Syneron said it expects to receive FDA (U.S. Food and Drug Administration) clearance for the PicoWay picosecond device by the end of 2014. It's used to treat pigmented lesions and tattoos.
Robust revenue growth driven by North America
Syneron's 4Q14 revenue was up 23.7% to $74.1 million—compared to $59.9 million in 4Q13. It said "robust growth in North American product revenue, driven by the commercial launch of UltraShape in the U.S., the global PicoWay launch, and solid results across the rest of our product portfolio and regions."