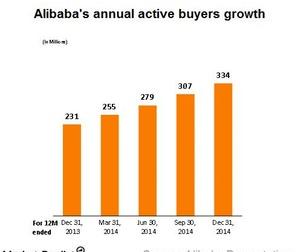 Why Is Alibaba's Active User Base Growing at a Fast Rate?
By Patricia Garner

Updated
Alibaba's active user base is growing
In the previous part of this series, we discussed how Alibaba's GMV (gross merchandise volume) increased at a fast rate. Part of the reason for this growth was the growth in its active user base. For the quarter ending in December 2014, Alibaba's (BABA) annual active buyers increased to 334 million—compared to 231 million in the same quarter last year. This growth represents an increase of 45% year-over-year, or YoY. It was driven by an increase in active buyers throughout China. It had substantially faster growth from lower tier cities.
Alibaba's annual active buyers metric only represents about half of the Chinese Internet user population. Its Internet user population is 641 million. As a result, there's a significant growth opportunity and potential for the company to expand its customer base.
Article continues below advertisement
Revenue growth rate is lower than GMV growth rate
Alibaba's GMV growth rate of 45% is higher than the revenue growth rate of 40%. This is because the greater percentage of total GMV comes from mobile. Now, Alibaba's mobile GMV accounts for 42% of the total GMV—compared to 20% in the same quarter last year.
Amazon (AMZN) is one of Alibaba's US counterparts. It doesn't reveal a breakdown of its mobile figures. This may be because Amazon hasn't been able to capitalize on its mobile products. However, eBay's (EBAY) mobile GMV constituted 34% of its total GMV in 4Q14.
Alibaba's revenue growth rate is lower because of the lower monetization on PC interface. The lower pay-for-performance, or P4P, monetization on PC was primarily due to improved user experience. This adversely affected the cost per click.
Improving user experience
Alibaba amended its ranking algorithm to improve the user experience, or natural search results, by focusing more on long-tail keywords. Long-tail keywords are more specific keyword phrases that visitors use when they're closer to a point-of-purchase. By promoting long-tail keywords, traffic to Alibaba's sites lowered because there's less demand for them. This had an additional impact on the volumes. In the long term, these improvements will provide better ROI (return on investment) to advertisers. More serious and focused customers will visit the sites. Eventually, they will make a purchase.
Alibaba's shift to mobile and commitment to improving user experience will lower the revenue growth rate in the near term. However, it will create significant value for both buyers and merchants in the longer term.
For diversified exposure to Chinese stocks, investors can consider ETFs like the iShares China Large-Cap ETF (FXI). This ETF invests in the largest companies in China's equity market. The financial services sector makes up 39% of FXI's portfolio. Another ETF to consider for investing in the retail sector is the SPDR S&P Retail ETF (XRT). It has about 1.2% of its portfolio invested in Amazon.