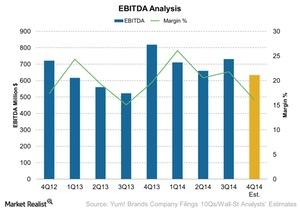 Why Yum! Brands Is Expected To Report Lower EBITDA
EBITDA analysis
So far in this series, we've covered Yum! Brands (YUM) revenue, same-store sales growth, unit growth, and expectations in the upcoming earnings. The earnings will be announced on February 4.
Wall Street analysts' estimated EBITDA (earnings before interest, tax, depreciation, and amortization) for the fourth quarter is $633 million—compared to $918 million in the same quarter last year. The EBITDA margins are expected to drop to 16% year-over-year, or YoY, from 19.6%. Sequentially, the margins are expected to drop from 21.8% in the previous quarter.
EBITDA is the purest measure of a company's revenue performance for any given financial period. The interest, depreciation, and amortization can vary among companies. So, the EBITDA helps investors compare and analyze how profitable companies are by eliminating these charges.
Disappointing earnings for Yum! Brands will not only hurt the company's stock, but also ETFs like the Consumer Discretionary Select Sector SPDR ETF (XLY). XLY holds 1.46% of the company's stock. XLY also holds Starbucks (SBUX) and Chipotle Mexican Grill (CMG).
Article continues below advertisement
Margin comparison
Panera Bread (PNRA) had an EBITDA margin of 11.9%. McDonald's (MCD) had an EBITDA margin of -2.3%. Darden Restaurants (DRI) is a casual dining restaurant. It had an EBITDA margin of 6.1%.
The EBITDA margin can also vary based on the business model. It depends on the breakup between where the company's business is coming from—the company-operated model or the franchise model.
In the next part of this series, we'll discuss what to look for in Yum! Brands' upcoming earnings release.