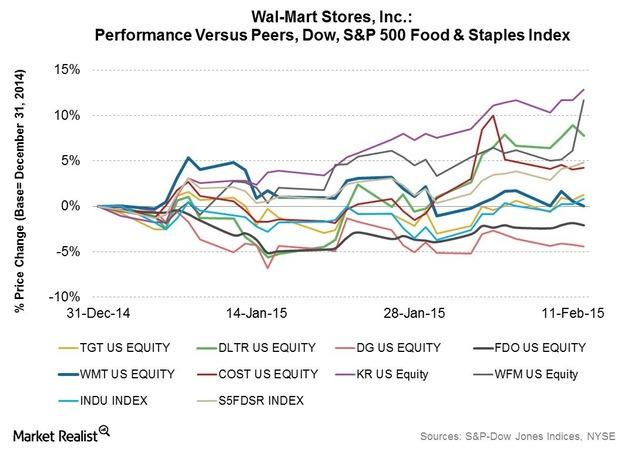 Walmart's Key Challenges In Its Business Environment
Competitive environment
Article continues below advertisement
Dollar Tree to acquire Family Dollar
In January 2015, Family Dollar Stores (FDO) shareholders approved Dollar Tree's (DLTR) acquisition of the company. Both Family Dollar and Dollar Tree are Walmart's competitors. The dollar store trinity—Family Dollar, Dollar Tree, and Dollar General (DG)—challenges Walmart's claim to price leadership.
The deal between Family Dollar and Dollar Tree would mean a larger competitor for Walmart. The new entity would use the synergies from the combination to drive further price cuts in products. It would have larger bargaining power with suppliers. This may cause Walmart to lower prices more to retain its competitive edge. However, it could also lead to pressure on US comps. It could pressure its margins in the coming quarters.
Bribery probe
Since 2012, Walmart has been the subject of a probe by the DOJ (U.S. Department of Justice) and the SEC (U.S. Securities and Exchange Commission). The agencies are conducting investigations into possible violations of the FCPA (Foreign Corrupt Practices Act).
The investigations focus on whether Walmart paid bribes in Mexico for permits to open new stores there. Walmart recorded a $282 million charge in fiscal 2014 pertaining to the investigation and enhancements to its internal global compliance program. The DOJ is also looking into possible misconduct by Walmart in Brazil, China, and India—among other markets.
Article continues below advertisement
NLRB complaint
The NLRB (National Labor Relations Board) filed a complaint last January. It accused Walmart of violating labor laws. The NLRB claims that the retailer acted against workers who joined unions. Walmart employs 2.2 million workers worldwide. It has 1.4 million workers based in the US.
Minimum wage legislation
Most of Walmart's ~1.4 million employees in the US earn wages above the legal minimum wage requirement. In recent years, there's been more activism by politicians and labor unions in the retail (XRT) (XLP) and restaurant industries. They want to increase the federal minimum wage. The last proposal sought to increase the minimum wage rate from $7.25 per hour to $10.10 per hour. The proposal was for the wage to increase in phases. It was defeated in the US Senate in April 2014.
However, another version of the bill may be reintroduced in the future. If such legislation comes to pass, it would have positive and negative impacts for Walmart. On one hand, Walmart would need to pay higher wages to part of its workforce. On the other hand, the increase in incomes among lower income households would benefit sales and earnings for the retailer.
Rising wage costs in China would also affect Walmart's margins. China has long been the source of low-cost products for Walmart and other firms around the world. Walmart is able to maintain its price advantage in part due to cheap Chinese products. This factor would continue to put pressure on the retailer's margins.
To read more sector updates, visit Market Realist's Consumer and Retail page.