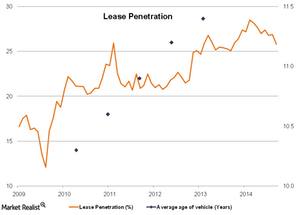 Vehicle leasing is driven by life cycles and innovation
Leasing leads to brand loyalty
Customers who lease their cars have a 63% chance of returning to the same brand. Customers who purchase their cars have a 39% chance of returning to the same brand. As a result, companies started actively advertising leases with attractive options for buyers. This caused lease penetration rates to reach record levels.
Lease penetration hit a low of 12.09% in 2009. For the auto industry, it was the worst year in nearly two decades. The industry only sold 10.42 million units. Penetration was averaging 27% in 2014—the highest rate in any year since data started being recorded in 2005.
Traditionally, high-end luxury automakers BMW (BMW) and Daimler (DDAIF) had the highest percentages of leased vehicles. BMW had an average penetration of 43.8% in 2010. It increased to 52.3% in 2014. Similarly, Daimler's Mercedes-Benz penetration increased from 45.4% in 2010 to 49.2% in 2014.
Article continues below advertisement
Continual improvement drives leases
The models' life cycles came down dramatically due to continuous innovation. Increased complexity also results in higher maintenance and repair costs as a car gets older. This supports the option of leasing a vehicle.
Leading companies—like General Motors (GM), Ford (F), and Toyota (TM)—are using their captive finance units to focus more on acquiring customers through attractive lease schemes.
General Motor's lease penetration more than doubled in four years—from 11.79% in 2010 to 24.99% in 2014. Similarly, the number of leased Ford cars grew by 73%. The First Trust NASDAQ Global Auto ETF (CARZ) provides investors with exposure to global automakers.
As the above graph shows, there's a direct relationship between leasing and the average age of a vehicle. The average age of a vehicle jumped from 10.3 years in 2010 to 11.4 years in 2013. This is a 10.7% increase—compared to 2% growth in the period from 2004 to 2008.
As build quality improved, the age of light trucks also increased by 11.9% from 10.1 years to 11.3 years. This rate grew quicker than passenger cars' rate. As the average age increased, vehicles' residual value increased. This resulted in lower monthly payments.
In the next part of this series, we'll discuss how financing costs play a major role in purchasing decisions.