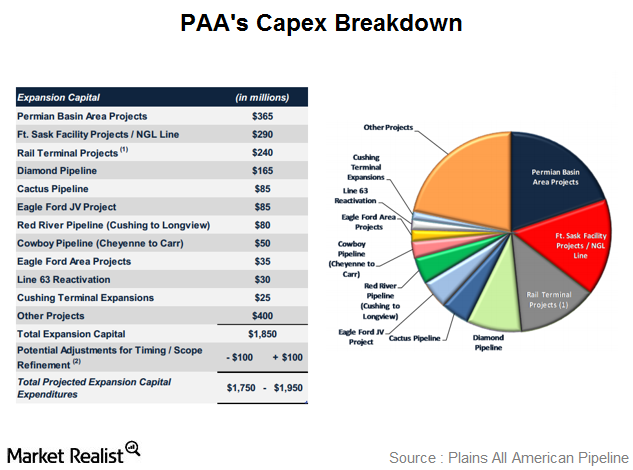 Plains All American Pipeline's capex plan for 2015
Capital spending
Plains All American Pipeline (PAA) expects to spend $1.85 in capital expenditures (or capex) in 2015. The company noted that its 2015 capex is highlighted by several small- to medium-sized projects located in multiple geographic regions or resource plays.
As the chart above indicates, the majority of PAA's spending, or ~20%, will be used for Permian Basin area projects. Key Permian players include Occidental Petroleum (OXY), Apache Corporation (APA), and Concho Resources (CXO).
The company is also spending a considerable amount of capital on the Fort Saskatchewan Facility Rail Project, the NGL line, and the Diamond pipeline.
In its earnings call, PAA highlighted the following important points about some of its large projects:
Article continues below advertisement
Permian Basin. The pipeline from Monahans to Crane was placed in service in January 2015, which created ~100,000 bpd (barrels per day) of additional takeaway capacity out of the Delaware Basin. The company expects to begin construction on the Basin Pipeline system from Wink to McCamey which will add ~300,000 additional bpd of takeaway capacity from the Delaware Basin. It's expected to be in service in August 2015.
Cactus pipeline. This pipeline is expected to be in partial service in April 2015. Initial operations are expected to be rise to 100,000 bpd, ramping up to 150,000 bpd by August as another Eagle Ford joint venture pipeline expansion reaches completion.
Eagle Ford. The company expects to complete the expansion of its joint venture pipeline from Gardendale to Three Rivers in April 2015. The facility, which will be able to accommodate ocean going vessels, is expected to be in service in late 2016.
Rockies. The company expects to build a pipeline from Cheyenne, Wyoming, to its Carr, Colorado, rail loading terminal. This will facilitate the movement of Niobrara crude on rail.
Rail projects. The Kerrobert Rail Terminal is expected to come on line in mid-2015. The St. James project, which is expected to be in service by the third quarter, will expand the company's ability to receive heavy crude.
As for maintenance capital, the company expects it to range between $205 million and $225 million.
Plains All American Pipeline (PAA) makes up ~8% of the Alerian MLP ETF (AMLP). Plains GP Holdings, L.P. (PAGP) is the general partner for Plains All American Pipeline, L.P.