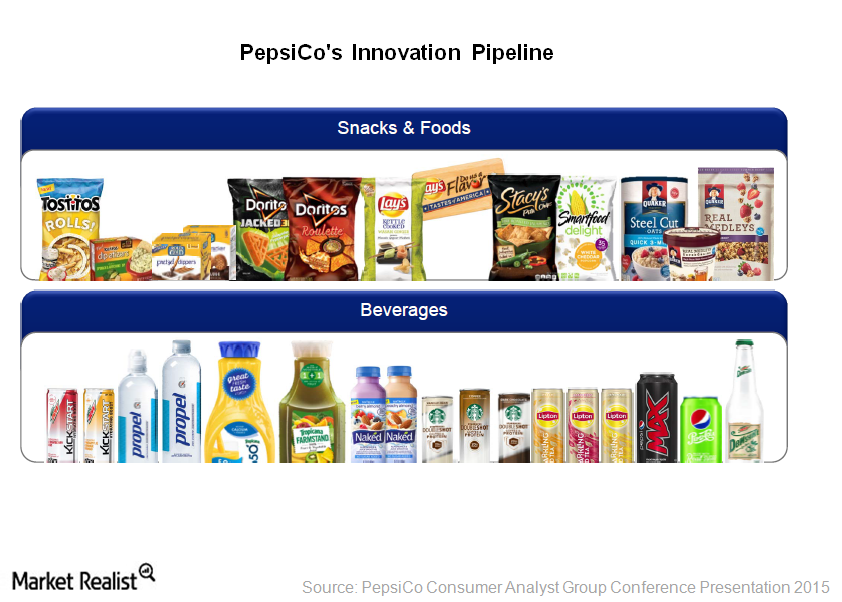 How PepsiCo's focus on innovation is reaping rewards
Strong brand portfolio
PepsiCo (PEP) owns several popular brands across its food and beverage categories, 22 of which generate more than $1 billion in annual retail sales. PepsiCo categorizes its brands into three categories:
Fun For You brands, which include brands like Lay's, Pepsi, Cheetos, and Doritos
Better For You brands, which include healthier versions of snacks with lower fat content like Baked Lays.
Good For You brands, which include nutritious products like Tropicana, Quaker, and Aquafina.
Article continues below advertisement
PepsiCo's focus on innovation
PepsiCo is innovating products that cater to changing consumer preferences. New products contributed 9% of 2014 net revenues, up from 8% in 2013. PepsiCo increased its research and development expenditure by 8% to $718 million in 2014, as the above chart shows.
Recent introductions, like Tostitos Cantina, Mountain Dew Kickstart, and Pure Leaf, achieved double-digit estimated annual retail sales growth in 2014 after generating more than $100 million in their launch year.
In June 2014, PepsiCo opened a global innovation center in Mexico, which will focus on baked goods. In September 2014, PepsiCo opened its first innovation facility in the Middle East region, which will develop new products and flavors that are tailored to local taste preferences.
Healthier food
PepsiCo understands the growing demand for nutritious products, and has introduced healthy options across its food and beverage categories like Naked Juice's Kale Blazer and Gatorade's new whey protein bars. PepsiCo plans to bring down the average amount of saturated fats and sodium levels per serving in its products by 15% and 20%, respectively, by 2020 compared to 2006 levels.
In 2014, PepsiCo's Quaker division launched three new oatmeal products: 3-minute steel cut oats, super grains oatmeal blend, and oatmeal with protein, all of which have reduced sugar and high protein.
Rivals Coca-Cola (KO), Dr Pepper Snapple Group (DPS), and Mondelez International (MDLZ) are also coming up with healthier versions of their products. The Consumer Staples Select Sector SPDR Fund (XLP) has 4.66% holdings in PepsiCo.
Innovative products
In May 2014, the company announced the Pepsi Spire fountain equipment lineup, which includes Pepsi Spire 1.1, Pepsi Spire 2.0, and Pepsi Spire 5.0. The Pepsi Spire 5.0 equipment, which has been introduced in over 30 markets, allows consumers to create about 1,000 beverage combinations using a 32-inch touchscreen.
PepsiCo also plans to launch new products in the Fun for You category in a number of international markets.