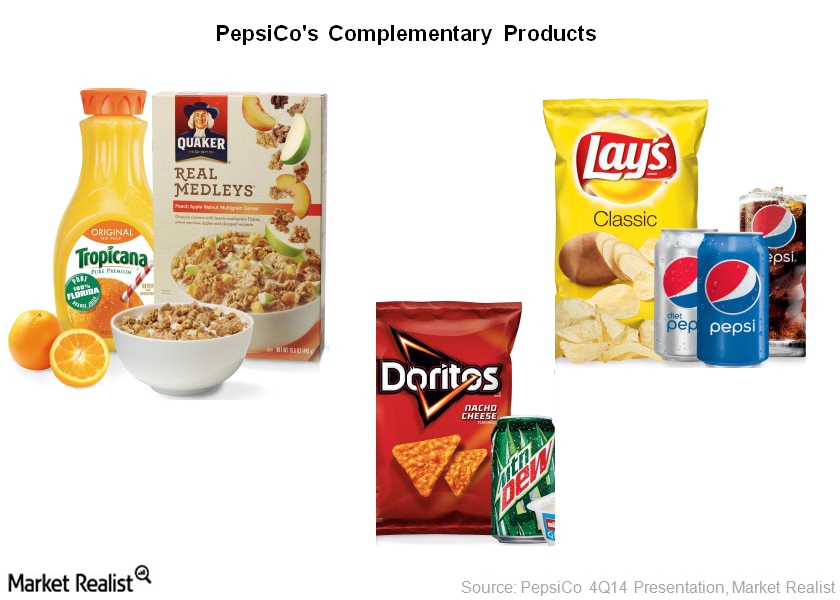 How PepsiCo is benefitting from complementary businesses
Snacks and beverage businesses
PepsiCo (PEP) has strong presence in both the snacks and beverage categories. In fiscal 2014, the company's North America business derived 54% of its revenues from the beverage business and 46% from the snack food business.
Article continues below advertisement
PepsiCo's complementary businesses
PepsiCo's snack and beverage businesses are complementary in nature and derive a lot of synergies. Consumers purchase and consume many of the company's food and beverage brands together. Some of the company's brands that work well together are:
Tropicana, Naked, and Quaker
Doritos and Mountain Dew
Pepsi soft drinks and Tostitos chips and salsa
"Better together" approach
According to a survey by Information Resources (or IRI), 54% of the US consumers who buy salty snacks also buy a liquid refreshment beverage in the same basket. Co-merchandising these products increases the incidence of their purchases.
The company's "better together" approach ensures that the common demand spaces for snacks and beverages are taken into account for product innovations and promotions. PepsiCo derives about $800 million to $1 billion in annual synergies. In 2014, PepsiCo launched its largest-ever global campaign for Pepsi and Lay's, cross-promoting these brands in 28 markets.
Competitive advantage
PepsiCo's strong hold on the US snack market provides it an advantage over pure-play beverage companies like Coca-Cola (KO), Dr Pepper Snapple Group (DPS), and Monster Beverage (MNST). The Consumer Staples Select Sector SPDR Fund (XLP) has 19.8% holdings in beverages.
Over the past few years, growth in PepsiCo's snack food business has offset the declining carbonated soft drink volumes in developed markets. As discussed in a previous part of this series, the strong performance of the company's Frito-Lay Americas snack division offset weakness in several markets.